Except for defence, Falklands don't need anything from any country, says MLA Sawle
Tuesday, February 7th 2012 - 05:38 UTC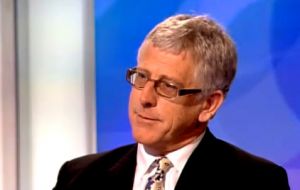 The Falklands don't need anything from any country, not even England, said Dick Sawle elected member of the Falklands Legislative Assembly, although admitting that the Islands do rely on the UK for protection.
"When talking about the Falkland Islands, there are three parts involved in this: the British government, ours, which is a democracy and Argentina," although Argentina only acknowledges the United Kingdom for negotiations, insisted MLA Sawle.
"We are always willing to talk to Argentina about many issues except our sovereignty, because we want to continue with our self-determination and determine our own future. Our sovereignty is not negotiable," he assured.
Speaking as a guest on the BBC Radio 2's Jeremy Vine show, MLA Sawle minimized the arrival of Prince William to the Falklands, second in line to the British Crown, and pointed out that his arrival, as well as the deployment of the destroyer ship HMS Dauntless to the South Atlantic Islands "had been planned several months in advance".
"There are things going on here all the time, such as Prince William doing his job as a helicopter pilot. If people want to read something else into that, then it is not true. And the HMS Dauntless is a Type 45 ship replacing a Type 42 one, which was already pretty old. Its deployment is normal and something like this happens in any modern military force" he stated.
Sawle then rejected an eventual integration of the Falkland' economy with Argentina's because "their economy is pretty strong".
"We do not depend on any country, not even England, expect for their defence of the Islands, necessary due to Argentina's aggression in the past, which has continued since 1982," he said.
Sawle mentioned several matters that both sides discussed in the past which allowed Argentine citizens to visit the Falklands with their passports since 1999 or their engaging in talks to protect the area's natural resources, "but unfortunately Argentina only wants to talk about one thing: our sovereignty. And that is something we don't want to negotiate".
He said however, that the current diplomatic spat between Argentina and the UK is "nothing but a war of words".
"Deep inside, I believe Argentina is a peaceful nation and the Government has always said that they do not want to aim their guns at us. I believe this is true. We are very peaceful people too and we don't want any conflicts like the one we lived in 1982" insisted MLA Sawle.
After assuring that the Islands' administration would continue with their policy of granting permits for oil exploration, Sawle said that "most of the Falklands' population sees itself as Islanders first and British second."
"Deep inside, we're all very British, and many tourists visiting us say we're more British than the British. We have our own traditions and British traditions as well. We also have people from other countries living peacefully among us: people from Chile, Saint Helena and Argentina, who we have no problem with. There is no discrimination towards other nationalities," he concluded.