Lawmaker says Chile should keep distance from the Malvinas issue
Wednesday, February 8th 2012 - 04:21 UTC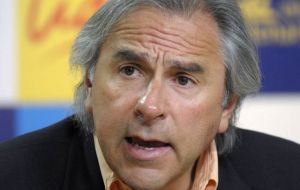 Lawmaker Ivan Moreira from the ruling coalition junior partner UDI said that Chile should not get involved in the Falklands/Malvinas issue which has to be addressed between Argentina and the UK, and recalled that Chile has its own problem with the coming International Court of Justice dispute with neighbouring Peru.
"We don't have to be part of the problem between Argentina and UK. One thing is to acknowledge the rights of Argentina over the Malvinas Islands but we must not mess with the problems the two countries have to solve. With Argentina and Britain, we must have the best of relations", said Moreira who is also a member of the Foreign Affairs committee from the Lower House.
Moreira added that Chile must not forget "that we have a real conflict in The Hague with Peru, and we are in no position to get involved in any situation different from this one". Peru has taken Chile to the International Justice of Court over a maritime limit difference.
The lawmaker also said he would have liked Argentina "at the time, not to offer refuge to the killer of Senator Jaime Guzmán", in reference to Galvarino Apablaza whom was granted political asylum (and a job at the Cristina Fernandez administration) thus impeding the extradition request from the Chilean government.
On Tuesday also the Chilean ambassador in Argentina Adolfo Zaldívar was in Santiago to meet the Chilean Executive secretary Andres Chadwick. The visit was thought to be linked to that evening's speech in Buenos Aires by President Cristina Fernandez, referred to the Malvinas issue and even the possibility of the suspension of the Lan Chile flight linking Falklands with Punta Arenas.
But Chadwick played down any speculation: "we are absolutely cool. There is no situation of tension or nervousness, whatever the Argentine president says today. Anyhow we are going to closely follow with great interest given the expectations generated".
Ambassador Zaldivar, who interrupted his summer vacation to come to Santiago, said his visit to La Moneda Palace had been pre-arranged to address issues border crossings and tunnels between both countries.