Antigua and Barbuda deny supporting bar on Falklands flagged vessels
Friday, February 10th 2012 - 01:08 UTC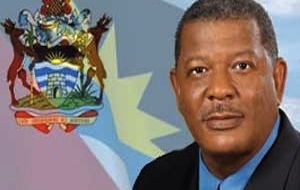 The government of Antigua and Barbuda by way of a press statement issued Wednesday, disassociated the Caribbean nation from statements made in the wake of the recent Eleventh ALBA summit, which were carried in the local, regional and international press, about a ban on Falkland Islands-flagged ships.
A report in the Antigua Observer states that a statement from the Argentine Ministry of Foreign Affairs said several Caribbean states and Nicaragua announced, last weekend, that they will bar, from their ports, any vessel flying the Falkland Islands flag. The declaration is similar to the Mercosur ban imposed last December.
It quoted Argentine Foreign Affairs Minister Hector Timmerman saying it was significant that all Latin American and Caribbean countries support the "legitimate rights of Argentina over the Malvinas. "Today, Caracas is witness that Malvinas has become a cause of the entire Latin America and the Caribbean and shows Argentina is not alone in its legitimate claims," Timmerman said.
The announcement which was picked up the media, including the Associated Press (AP), CBS, CNN and Washington Post, caused concern at Antigua-Barbuda and further afield.
In a brief statement issued on Wednesday, the Antigua government sought to disassociate the twin-island nation from the reported decision of ALBA, saying its stance on the 180-year-old dispute between Argentina and Britain over the Falkland Islands is consistent with the Caribbean Community (Caricom).
The release said that position is to advocate for "a peaceful and definitive solution to such dispute, pursuant to the relevant pronouncements of the United Nations Organization (UNO) and of the Organization of American States (OAS)."
Further, the release said, "Antigua and Barbuda has never supported any call for the banning of flagships from any country in the region and therefore disassociates itself from any statement regarding the banning of ships carrying the flag of the Falklands (Malvinas) from entering our ports."
There was no indication on what steps, if any, the Caribbean island Foreign Affairs Ministry would take to address the reports regionally and internationally.
The release instead referenced the provisions of United Nations General Assembly Resolution No 31/49. That resolution requests the governments of Argentina and the United Kingdom "to consolidate the current process of dialogue and co-operation through the resumption of negotiations in order to find a peaceful solution to the sovereignty dispute as soon as possible."
The announcement coming out of the ALBA summit contradicted regional reports from the recent UK-Caribbean Forum held in Grenada, which said Caribbean heads of governments and ministers agreed to "to support the principle and the right to self determination for all peoples, including the Falkland Islanders, recognising the historical importance of self-determination in the political development of the Caribbean, and its core status as an internationally agreed principle under the United Nations Charter."
The ALBA nations include Antigua and Barbuda, Bolivia, Cuba, Dominica, Ecuador, Nicaragua, St. Vincent and the Grenadines and Venezuela. Representatives of Haiti, Suriname and St Lucia attended the event as "participant observers".