Prince Harry named best co-pilot gunner of the Apache helicopter training course
Friday, February 10th 2012 - 04:20 UTC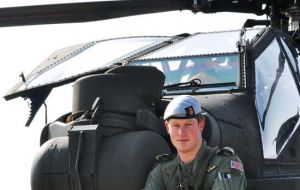 Prince Harry, or Captain Wales as he is known in the Army, has been named best co-pilot gunner in his Apache training course. Captain Wales and his fellow trainees have now completed the Conversion to Role (CTR) course which involves 18 months of rigorous training on the Apache attack helicopter.
During a dinner to mark the end of the course on Tuesday 7 February 2012, Captain Wales and his fellow students were congratulated by the Apache Force Commander, Colonel Neale Moss, who said they were now up to the challenge of operating one of the most sophisticated attack helicopters in the world.
The prize of best co-pilot gunner marks out the student whose overall performance during the course is assessed as the best amongst their peer group. The award handed to Captain Wales consists of a polished 30mm round from an Apache cannon mounted on a stand. This is the second time the award has been given.
More than 20 students finished the course alongside Captain Wales.
Colonel Moss, Commander of the Attack Helicopter Force at Wattisham Station, said:
"The Apache course is extremely challenging, teaching and testing students in their flying skills, decision-making and mental agility on exercise all over the country and abroad. They are assessed continually to ensure that they are up to the challenge of operating one of the most sophisticated attack helicopters in the world.
"This requires composure, dedication and hard work and I congratulate all of the students as they go forward to join an operational squadron and continue to learn more in their aviation careers."
The Apache training is conducted in two parts: the Conversion to Type course at Middle Wallop in Hampshire, which teaches students to fly the aircraft, and the CTR course at Wattisham which teaches them how to fight the aircraft.
A major part of the CTR course is a two-month exercise in the United States known as Crimson Eagle.
This exercise includes environmental training where students have to prove their proficiency in handling the aircraft in mountainous and desert conditions, including dust landings and limited power training during both the day and night, as well as safely employing the aircraft's weapons.
It also includes a period of judgemental training in the use of the weapon systems in a challenging tactical situation. Towards the end of the exercise all students took part in a live firing phase where they were able to fire all of the aircraft's weapon systems within realistic tactical scenarios.
Students who have completed their Apache training are awarded 'limited combat ready' status, having proven themselves in a range of demanding assessments, both on their own and operating as pairs of aircraft.
The course is designed to prepare students for the Apache aviation challenges faced in the current operating climate. They will now be assigned to squadrons in the Apache Force based at Wattisham, part of 16 Air Assault Brigade.
Captain Wales will be assigned to 662 Squadron, 3 Regiment Army Air Corps, where he will gain wider experience flying Apaches and taking part in exercises in the United Kingdom