Timerman on Friday formalizes at UN complaint against UK 'militarization' of Malvinas dispute
Friday, February 10th 2012 - 01:01 UTC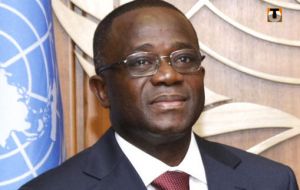 Argentine president Cristina Fernandez gave instructions for the formal complaint before the United Nations accusing the United Kingdom of 'militarization' of the South Atlantic and Malvinas Islands be presented on Friday, according to a release from the Argentine Ministry of Foreign Affairs.
"Foreign Affairs minister Hector Timerman will be meeting tomorrow (Friday) with Ambassador Kodjo Menan, President of the UN Security Council to make the presentation of Argentina's complaint against the militarization that UK is deploying from the Malvinas Islands in the South Atlantic", says the official release.
Timerman will also report personally to the president of the UN General Assembly Ambassador Nassir Abdulaziz Al-Nasser and Secretary General Ban Ki-moon of the iterated violation by the UK of the almost forty UN resolutions which call for a dialogue between the UK and Argentina to peacefully solve the conflict born in 1833 with "the military invasion of the Malvinas Islands".
The Argentine minister also has schedule meetings in the UN with the president of the Decolonization Committee, or C-14, Ambassador Pedro Nuñez Mosquera and the representatives from Colombia and Guatemala, that currently represent Latin America in the Security Council.
The Argentine government has strongly complained the fact that UK will be deploying one of its most modern Royal Navy vessels, Type 45 destroyer HMS Dauntless on South Atlantic patrol, at the end of the current Type 23 frigate HMS Montrose tour.
Likewise it condemned the presence of Prince William who is in the Falklands for six-weeks as part of the routine deployment for helicopter pilots and crews of the RAF Search and Rescue service.