Controversy erupts in Argentina as lawmakers vote to double their salaries
Monday, February 13th 2012 - 19:57 UTC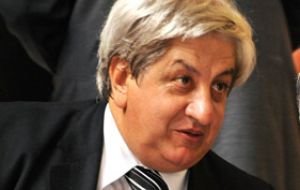 A controversy has erupted in Argentina following lawmakers vote to double their congressional income while the federal government is cutting on subsidies and expenditure and has suggested 'salary moderation' for the coming round of negotiations with a roof of 20%.
The new allowances mean lawmakers will be making the equivalent of between 6.880 and 8.000 dollars per month compared to the current 3.440 and 3.989 dollars.
However lawmakers are also entitled to other benefits such as free tickets to their home province which they can turn into cash and an extra to all those who live more than 100 kilometres from Buenos Aires which varies according to distance.
The Lower House also voted for an only time an additional of 5.000 Argentine Pesos (approx 1.150 dollars) for the functioning of the different political groups in Congress.
The increase in allowances was passed in spite of criticism from leaders and social organizations who have exposed the minimum activity of the Argentine Federal Congress with the full Lower House meeting ten times and the Senate fifteen.
These are the lowest summons since 1983, when the return of democracy.
"It's madness the increase runs contrary to the current situation of the country" said Francisco Solana, member of one fo the smallest political groups with congressional representation.
The decision was also criticized by union leaders. Julio Piumato who represents staff and workers from the Judiciary branch union said ironically "does this mean the increase must be taken as a 'reference' majority for the salaries round?"
"I think it is great the lawmakers and increase their salaries, but this means there's enough to go around for everybody. The representatives of the people must be an example for those whom they represent" said Piumato who is also a member of the organized labour CGT governing board.
However some lawmakers rejected the accusations and said the increase was long overdue. "It's ridiculous that the administration staff from the House or the Senate is making more money than a lawmaker, it's a simple decision to update gross distortions and a simple issue of institutional respect", said Federico Pinedo, member of the opposition.
"The updating of lawmakers allowances is a matter of strict fairness. It was long overdue and the difference with similar jobs in the Executive branch is superlative" said opposition Radical party lawmaker Ricardo Gil Lavedra.
However the increase became public when the Argentine government is making extraordinary efforts to cut public utilities subsidies, given forecasts of slower growth in 2012 and the challenge to contain inflation which according to private estimates is running above 25% although the 'official' index is below two digits.
Although not specifically indicating a percentage increase for the round of salary negotiations, the strong suggestion from government was that the increase should remain in the realm of 18% to 20%.