Falklands: Sean Penn in Argentina, calls for dialogue and an end to colonialism
Monday, February 13th 2012 - 20:41 UTC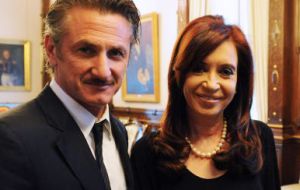 US actor Sean Penn gave his full support to Argentina's sovereignty claim over the Falklands/Malvinas Islands and underlined the conflict must be solved through dialogue. The Hollywood star visited Buenos Aires on Monday as representative of the Haitian people and survivors of the earthquake that bashed the Caribbean nation in 2011.
"I understand it is a sensitive moment from a diplomatic point of view because of the Malvinas conflict between Argentina and the UK. The focus must be dialogue to solve the conflict", said the actor who was accompanied by Foreign Affairs minister during his visit and interview with President Cristina Fernandez.
And "I hope that diplomats can establish true dialogue in order to solve the conflict as the world today cannot tolerate ridiculous demonstrations of colonialism. The way of dialogue is the only way to achieve a better solution for both nations", underlined Sean Penn.
"He's an admirable actor and person", said Cristina Fernandez after meeting with Sean Penn and before a ceremony in Government House. She underlined the US actor's commitment to solidarity work particularly in Haiti which was the main reason for him coming to Argentina.
"We talked about Haiti, and their security policy", since the UN invests annually over 800 million dollars in that area said the Argentine president.
"We said it was time to begin preparing and training the Haitians to have their own Armed Forces", said Cristina Fernandez indicating that the huge sum of money currently paid out by the UN could very well be invested in training the Haitians. She proposed the Argentine Gendarmerie as a model to emulate in the Caribbean island.
Cristina Fernandez also mentioned that Sean Penn is linked and helps finance a NGO that takes care of street children. At the meeting with the president Penn was accompanied by Father Carlos Molina an Argentine priest who works for an NGO that takes care of abandoned children in the north of Argentina and Haiti.