Islanders' flash-rally to express unhappiness with world media coverage of Falklands' dispute
Thursday, February 16th 2012 - 03:54 UTC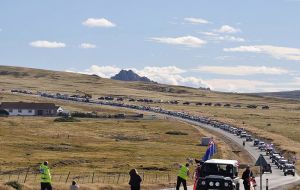 On a beautiful Wednesday evening, 130 vehicles and as many as 300 people from the Falklands Islands joined a flash-rally to express their feelings about the current political tensions with Argentina that have escalated over the last few months.
An inspiration of Norman Clarke, a local photographer, the rally was an opportunity for people to express their unhappiness about some of the statements printed in the world press about the Falkland Islands and Islanders themselves, mostly inspired on Argentine untruthful, sometimes insulting propaganda.
"People are not very happy at the moment with a lot of the things being said in the press" said Norman. "With all that's been going on they don't feel particularly happy about the number of Argentines in town these last couple of weeks and they're unhappy that people like Sean Penn, who know nothing about the Falklands, is saying the things that he does. "
The idea came to Clarke only Tuesday afternoon and very quickly he mobilized friends, acquaintances, facebook and the local radio station to get the message out. It is likely that if there had been more than 24 hours notice, substantially more flag-bedecked vehicles and people would have joined in the good-humored and quite cheerful procession through the streets of Stanley.
Overall, Argentine visitors to Stanley who are aware that Falkland Islanders have no love for their country, are surprised at the generally affable stance Islanders take towards them.
But the constant pressure from the press -notwithstanding the many very positive stories being published about the Falklands- is beginning to fray nerves. Long used to insulting and frequently bizarre pronouncements made by Argentina, and largely undaunted by the escalation of threats being made against them, people are now feeling quite irritated by some of the flippant and ignorant misconceptions taken by journalists, commentators and recently, Hollywood superstars, who have offered the world the benefit of their often suspect wisdom.
The time was right, Norman Clarke said, "for people to show how they are feeling in a totally nice way, not showing their teeth, just proud of whom they are and showing everyone this is what they are."
The total population of the Falklands is barely 3.000 and Stanley's 1.800, so the rally, almost spontaneous (organized in less than 24 hours) means almost 20% of Stanley residents turned out to express their feelings.

By Janet Roberston -SeAledPR - Stanley