Moody warning on credit ratings of 17 global banks and 114 European financial institutions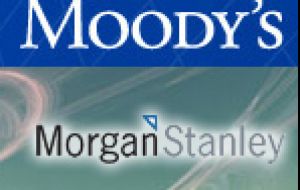 Moody's warned Thursday it may cut the credit ratings of 17 global and 114 European financial institutions in another sign the impact of the Euro zone government debt crisis is spreading throughout the global financial system.
It was reviewing the long-term ratings and standalone credit assessments of a range of banks, Moody's added. Markets were unaffected by the Moody's announcement.
"Capital markets firms are confronting evolving challenges, such as more fragile funding conditions, wider credit spreads, increased regulatory burdens and more difficult operating conditions," the ratings agency said in a statement.
It said among 17 banks and securities firms with global capital markets operations, it might cut the long-term credit rating of UBS, Credit Suisse and Morgan Stanley by as much as three notches following the review. It said the guidance was indicative.
Among the banks that might be downgraded by two notches are Barclays, BNP Paribas, Credit Agricole, Deutsche Bank, HSBC Holdings, and Goldman Sachs. Bank of America and Nomura were included in those that might be downgraded by one notch.
The US rating agency said in a separate statement its action on 114 financial institutions from 16 European nations reflected the impact of the debt crisis and deteriorating creditworthiness of its governments.
It cited more fragile funding conditions, increased regulatory burdens and a tougher economic environment for its review of banks and securities firms with global reach.
Moody's salvo follows rounds of downgrades in European sovereign ratings as the Euro zone's struggle to keep its weakest link Greece afloat has been driving up borrowing costs and straining finances of other nations.
Last Monday, Moody's cut the ratings of six European nations including Italy, Spain and Portugal and warned it could strip France, Britain and Austria of their top-level AAA grade.
Standard & Poor's cut France's and Austria's top ratings and downgraded seven other Euro zone nations last month. It also cut the Euro zone's bailout fund by one notch.
Moody's also downgraded the insurance financial strength ratings (IFSR) today by one or two notches of several insurance companies, which it said related to their investment and operating exposures to Spain and Italy.
These included Unipol Assicurazioni SpA, Mapfre Global Risks, Assicurazioni Generali SpA and Allianz SpA. It affirmed the IFSR of Allianz SE, AXA SA, Aviva Plc and their subsidiaries, but cut the outlook on the rating to negative from stable.
European banks' bond holdings of struggling euro zone nations Greece, Portugal, Ireland, Spain and Italy have trapped Europe in a vicious circle.
The falling value of the debt puts pressure on banks, which in turn weighs on lending and economic activity, making it tougher to sustain the growth that governments badly need to shore up their finances.
The biggest single group among the 114 institutions under review was headquartered in Italy, followed by Spain, with more than 20 each. Nine were headquartered in Britain, 10 in France and seven in Germany.
Moody's said nine of the 17 banks with global reach are included in the list of 114 financial institutions in Europe.