Ecuador highest-court ratifies ruling against the press; publisher granted asylum in Panama
Friday, February 17th 2012 - 18:45 UTC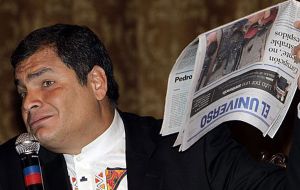 Panama on Thursday granted asylum to Ecuadorean newspaper publisher Carlos Perez, one of three executives facing prison after losing a libel suit seen as a key test of press freedoms in Ecuador.
The announcement came shortly after Ecuador's high court ruled against the El Universo newspaper in the suit filed by leftist President Rafael Correa.
Panama's embassy in Ecuador said the request was granted because there was "a reasonable fear" for the personal security of Perez, who was in the embassy when the statement was released.
Correa told reporters in Quito that he was "surprised" by the move from Panama, which has a long tradition of offering political asylum. "These men are not politically persecuted but common convicted criminals," Correa said.
Ecuador's National Court of Justice (CNJ) on Thursday confirmed a lower court ruling that sentenced the three top El Universo executives and former opinion page editor Emilio Palacio to three years in prison, and awarded Correa 40 million dollars in damages.
Correa sued El Universo in March 2011 alleging "defamatory libel" over a column by Palacio which accused the president of crimes against humanity. Palacio wrote that Correa ordering the military to open discretionary fire "without prior notification" on a hospital on September 30, 2010, during a police riot over benefits.
Correa fled to the hospital after he was harassed by rioting police, and was rescued by army soldiers. The president denied ordering the soldiers to shoot at the hospital.
In July, a judge ordered the newspaper to pay Correa 40 million dollars and sentenced Carlos Perez, his brothers deputy directors Cesar Perez and Nicolas Perez, as well as Palacio, to prison. An appeals court upheld the sentence in September.
Correa appeared to soften his stance Thursday, suggesting he may ask the courts to lift the jail terms and fine.
The defence has vowed to take the case to the Inter-American Human Rights Commission and then to the Inter-American Human Rights Court.
The newspaper's management said the fine would likely bankrupt El Universo, the country's widest circulation newspaper, given that its total capital is just 35 million dollars.
Palacio last week sought political asylum in Miami and is considered a fugitive from Ecuador. Cesar Perez said in Miami Thursday that he would stay out of Ecuador for now and seek European support, but that he was not yet seeking asylum. Nicolas Perez, who has US nationality, said that he would seek support in Washington in the coming days.