"Argentina is not a country you'd want to be associated with", says Falklands' MLA
Saturday, February 18th 2012 - 01:52 UTC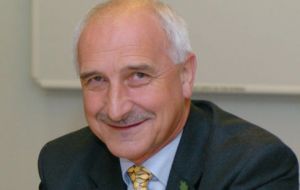 Falkland Islands lawmaker Mike Summers accused Argentina of acting as a "schoolyard bully" trying to take sweets from others and described as intolerable that a country of that size should be trying to bully a country of 3.000 people into submission. "It's a country you'd not want to be associated with".
"Argentina is trying to blockade the Falklands and force us to go and discuss sovereignty. It's like a schoolyard bully trying to beat someone up to give them their sweets", said MLA Summers adding that there is no way Argentina can convince the Islanders to accept sovereignty.
In an interview with the Los Angeles Times MLA Summers talked about the ongoing UK/Falklands/Argentina diplomatic dispute over the South Atlantic with the current government of President Cristina Fernandez trying to blockade and isolate the Islands and accusing London of 'militarization' of the region for sending on patrol one of the Royal Navy's most modern vessels and Search and Rescue helicopter co-pilot Prince of Wales.
However in spite of all the rhetoric escalation, it's not much of an impact for the people of the Falklands: "We've been so used to this for so many years. It just goes on. For people in government, it's slightly different: we have to keep reacting to things. But for most of the citizens, it's just part of the background noise", pointed out MLA Summers.
And what would a change of sovereignty mean?
Summers explained that the Falklands are largely self-governing with its own government and makes its own laws, while British sovereignty contributes a defense deterrent and assistance in foreign affairs matters and that is all.
However "if Argentina became sovereign, that sort of arrangement is unlikely to exist and they would likely be trying to re-colonize the Falklands. We'd be governed by a foreign country with no knowledge or understanding of the people here, no knowledge or understanding of how this community works and how the people in it think: it would be a foreign country taking over our country. You have to add to that the fact that Argentina is historically and culturally completely different than the Falklands. Their legal system is different from ours, their cultural mores are different than ours and frankly, it's a country that's not very well governed. Corruption is rife. Press freedom is restricted. It's not a country you'd want to be associated with".
Summers added that there has never been a referendum on Argentine sovereignty and this is self evident since "in every election everybody who stands for office says we're opposed to the Argentine claim to our country. Nobody has ever got anywhere in an election that didn't make that perfectly clear. Public sentiment is not at all difficult to judge on this issue and I'm not aware of a single person on these Islands who thinks we should be talking about transfer of sovereignty".
The Falklands lawmaker added that for the people of the Islands, sovereignty should not be judged as a dispute between England and Argentina, it should be judged as what the people of the Falklands want to do, and for this matter the UN is the guardian of the principle of self determination.
And why have tensions grown so much recently?
"The main factor is really President Cristina Fernandez racking up more and more harassment and attempts to intimidate the people of the Falklands by trying to cut trade between us and mainland Latin America. The British government, to their credit, has responded to it. The upcoming anniversary of the invasion of the Falklands will also cause some focus in the next few weeks. (April 2 is the 30th anniversary of Argentine military invasion of the Islands and 14 June the end of the war). I hope very much once we get past June that Argentina will relax and take a more mature attitude toward its neighbors", said MLA Summers.
However the lawmaker does admit oil and the recent round of exploration has contributed to the current situation. "But of course the Argentines started on this track in the 1950s when [former President Juan] Peron decided claiming the Falklands would be a good way of distracting the public from problems he was having in Argentina at the time. Whilst Argentina may shout and scream that 'they're pinching our oil', that's not how it started. It was an attempt to divert attention of the common man in Argentina from problems there and find a common rallying point".
Finally MLA Summers said he hoped that Hollywood star "is a better actor than he is a politician".