Argentine economy expands 8.8% in 2011; capital outflow reaches 21.5bn dollars
Tuesday, February 21st 2012 - 05:19 UTC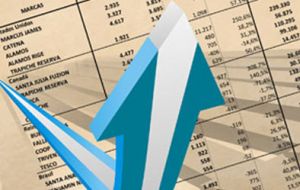 The Argentine economy expanded 8.8% in 2011 according to the controversial National Statistics office, Indec, while the Central bank reported that 21.5 billion dollars fled from the country last year, which is 88% higher than in 2010.
The final expansion percentage for last year was obtained following the Monthly Estimate of Economic Activity which showed that in December the economy grew 5.5% over the same month in 2010 in spite of a 0.2% decrease over November 2011.
The Economic Activity monthly estimate is a provisional monthly anticipation which serves to measure the variation of the GDP.
Argentine GDP in the third quarter of 2011 expanded 9.3% compared to the same period a year ago, while in 2010 the increase was 9.2%, thus accomplishing eight years of sustained growth since the economic and financial debacle of 2002.
Regarding the outflow of capital the Central Bank estimated that 21.5 billion dollars left the country in 2011, which is 88% higher than in 2010. In the last quarter of 2011 the outflow reached 3.26bn dollars compared to the 8.44bn of the July-September quarter.
At the end of October President Cristina Fernandez imposed strict capital movement measures and severely limited the purchase of foreign currency in banks and money exchange houses. Since that all foreign money purchases must be checked by the Tax Revenuer Office, which decides on the operations taking into account the purchasing capacity of each buyer.