Argentine personalities openly support Falklands' right to self-determination
Tuesday, February 21st 2012 - 20:34 UTC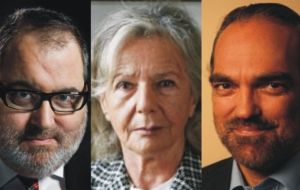 A group of Argentine writers, historians, constitutional law experts, politicians and journalists will be making a formal presentation in support of the Falkland Islanders right to self-determination. They have also criticized the constant harassment to which Islanders are exposed from the administration of President Cristina Fernandez.
The document, "Malvinas, an alternative view", to be made public on Wednesday is supported by intellectuals such as Beatriz Sarlo, Juan Jose Sebreli, Santiago Kovadloff, Rafael Filippelli, Emilio de Ipola, Vicente Palermo, Marcos Novaro and Eduardo Antón; journalists Jorge Lanata, Gustavo Noriega and Pepe Eliaschev; historians Luis Alberto Romero and Hilda Sábato; constitutional experts Daniel Sabsay, Roberto Gargarella and José Miguel Onaindia, plus former lawmaker Fernando Iglesias.
"Malvinas, an alternative view", signed by the above renowned 17 personalities emphasize that respect for the interests and opinions of the Falkland Islanders, 'under British sovereignty since 1833' is the backbone of the document's foundation.
The group was created following on informal contacts among its members after several of them participated in public debates ahead of the thirtieth anniversary of the beginning of the Malvinas conflict (2 April 1982) and openly question the official Argentine government position.
The most controversial opinion was that from historian Luis Romero who published an opinion column in La Nacion under the heading of "Are the Malvinas really ours?"
In the column Romero basically argues there will be no Argentine solution to the Malvinas question until the Islanders want to become Argentines and voluntarily join as citizens of the new State.
The British government historically has supported the Islanders right to self-determination and to remain British as long as they so wish and thus rejects any Argentine suggestion of holding sovereignty talks.
Argentina on the contrary argues that according to the UN Charter the principle of self determination must be applied to an ethnic group over its territory of belonging and not over spaces illegally occupied by a transplanted population.
In support of Argentina's position the C-24 or UN Decolonization Committee has called on the UK to sit and dialogue on the Falklands/Malvinas sovereignty and lately has managed the support from Mercosur and some Caribbean countries which bar Falklands' flagged vessels from their ports.