Suspending Lan flight can only be seen as an "economic blockade" against the people of the Falklands
Tuesday, February 21st 2012 - 21:14 UTC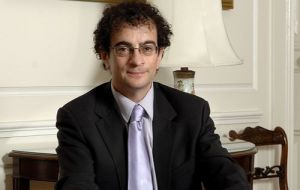 British ambassador in Chile Jon Benjamin said that if Lan flights to the Falkland Islands from Chile are suspended this can only be interpreted as an "economic blockade" of the Islands and strongly suggested that the administration of Argentine President Cristina Fernandez is trumpeting the Malvinas card pushed by "domestic interests".
"We have no doubts about our sovereignty over the Falklands. It's a problem that goes back to the XVII century, and the point is that if an issue dating back 180 years is reopened, any issue from that date onwards is subject to review" said Ambassador Benjamin quoted by Santiago's La Tercera, based on statements from a television interview.
Further on he said that "if Lan weekly flight to Falklands from Chile with a monthly call at Rio Gallegos, are suspended this can only be interpreted as an economic blockade of the Islands, against the people of the Islands, which we believe is contrary to international law".
"Why reopen only that dispute, when there are so many other historic disputes in the region?" asked Benjamin, a reference which could be directed to Chile's standing border problems with Bolivia, Peru and to a certain extent with Argentina.
"What doubt can there be that this year is the thirtieth anniversary of the war that was triggered by the then Argentine regime? Maybe there are several domestic interests in Argentina involved in all this also", said the British ambassador.
When asked specifically about the "South Atlantic militarization" claims presented by Argentine Foreign Affairs minister Hector Timerman before the UN, ambassador Benjamin said that UK disagrees with that interpretation and "is not interested in a war of words at the UN".
Finally when asked about UK PM David Cameron's phone call to Chilean President Sebastian Piñera, Benjamin said that "it was a long pending exchange" during which "a wide range of international issues were also addressed".
The same report from La Tercera also quotes Chilean Foreign Affairs minister Alfredo Moreno who made it a point to distance the Argentina/UK dispute from the Bolivia/Chile controversy. "Chile and Bolivia have a treaty which clearly establishes limits, something which does not occur in the case of Argentina with the UK".