British subs to provide under-the-ice data to help with Arctic climate change
Wednesday, February 22nd 2012 - 20:39 UTC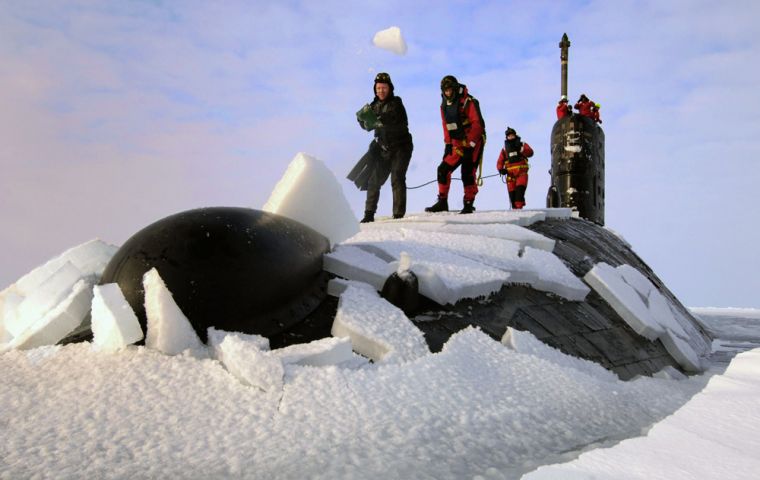 Data collected by Royal Navy vessels, as part of standard operations, is set to provide clues on Arctic climate change. Little is known about the areas of water underneath the Arctic ice, as sensors are difficult to place for long term deployment. Now UK environmental researchers are to be presented with previously unavailable information provided by the UK Ministry of Defence (MOD).
Environmental data such as water temperature and salt content is routinely monitored by all Royal Navy vessels, including submarines.
The dataset, from a UK submarine mission, will provide a snapshot of conditions under the ice and one of the few clues available for the last two decades, on the changes taking place in the Arctic.
The MOD's Defence Science and Technology Laboratory (Dstl) are working with the Natural Environment Research Council (NERC) and the UK Hydrographic Office (UKHO) to prepare the data for the benefit of environmental researchers.
Dstl was involved in the early part of the project, consulting with researchers and assessing which information would be appropriate for their studies. The project, known as the Submarine Estimates of Arctic Turbulence Spectra (SEATS), is funded through NERC's Arctic Research Programme. It will see the controlled release of scientific analysis on the environmental changes recorded during this mission, possibly paving the way for further data to be released in the future.
Data will be released to academics at NERC's National Oceanography Centre (NOC), based at the University of Southampton Waterfront Campus, for analysis. This could, for the first time, uncover the impact of climate change related to the Arctic.
Dstl marine scientist, Tim Clarke said: "This has really been a collaborative effort and without co-operation of all bodies involved, it would not have been possible. What this represents is the availability of important scientific data, previously inaccessible, which can only move the study forward. The MOD is excited by this project since it puts UK researchers at the forefront of climate change science. Any progress will, ultimately, lead to an improved oceanographic product for Royal Navy operations."
NOC Researcher John Allen said: "We're delighted that this information will be available and thank each of the organisations who have been instrumental in releasing this data. It's really important to have this information as it will enable us to clearly measure the changes which have occurred in recent years, which is paramount for the accuracy, wider impact and legacy of global environmental science research."