Double medical check for MSC Armonia passengers and crew in Montevideo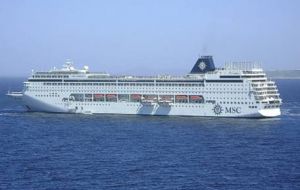 Passengers and crew from the Italian cruise vessel MSC Armonia had to undergo a medical check-up when they docked in Montevideo Tuesday morning following the death of a member of the crew who is believed to have caught a type of flu virus.
MSC Armonia arrived from Santos where stewardess Fabiana dos Santos Pasquarelli, 30, had been hospitalized and treated for respiratory problems, cough and fever, but died early Saturday morning.
The vessel with 2.000 passengers, mostly Americans, Canadians and Brazilians, and 700 crew members is scheduled to call in Buenos Aires Wednesday morning.
In Montevideo an epidemiology team met with the cruise vessel doctors and checked on passengers and crew members before allowing them on shore.
Yamandú Bermudez, director of Uruguay's Public Health ministry said that four crew members were taken to a Montevideo hospital with viral symptoms but "the rest of the crew and passengers did not present any type of symptoms or transmittable incident", which means "there was no element that merited the impediment to come ashore".
However the Montevideo media reports that the number of crew members interned is five and they are all having tests to check which kind of virus they are carrying.
Alberto Diaz head of Uruguay's ports authority, ANP said that they were informed and aware of what had happened so the sanitary protocol for these cases was implemented.
"Our doctors went on board talked with their colleagues, looked at the sanitary reports record and exchanged ideas on the situation. It is normal procedure", said Diaz.
Osvaldo Fabacchi, a top official from the port of Montevideo said in a television interview that "at present the cause of the crew member's death has not been confirmed. The autopsy has yet to be carried out in order to determine and confirm the cause of death" and denied they had informed that the death of the crew member was caused by Type B Flu.
MSC Armonia is scheduled to again call in Uruguay, this time in the Atlantic seaside resort of Punta del Este, in six days on the return journey to Santos.
MSC Armonia has made headlines before. Built in 2001 for the now defunct Festival Cruises as MS European Vision she was chartered for the 27th G8 summit in Genoa, Italy as a secure location to house world leaders.
Terrorism fears were high in advance of the 11 September 2001 attacks and Al Qaeda was believed to be considering Genoa as a target. The summit evolved with no incident involving world leaders but there were abundant and bloody clashes in the streets of Genoa.