Inflation, over-valued currency and threat to exports, Uruguay's 2012 challenge
Thursday, February 23rd 2012 - 05:03 UTC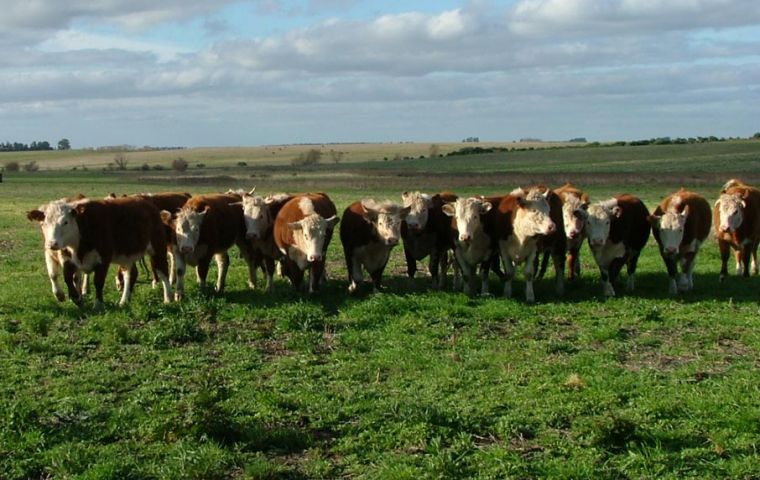 Inflation and an over valued currency are among the main challenges faced by the Uruguayan economy this year in the framework of a global recession which threatens the country's exports
A country report from the Economic Intelligence Unit, EIU, the research centre from the financial magazine, The Economist, points out in its assessment of the region that Uruguayan exports are seriously exposed to the global recession.
The main problem for exports will come from the growing protectionist policies of its trade partners as well as the loss of competitiveness if inflation continues ascending and the exchange rate remains with an 'appreciated' Peso.
However the EIU also underlines that the global recessive context is also affecting all countries exporters of commodities.
"The weakening of economic prospects for Uruguay's main trade partners" remains the heaviest challenge since the world is sailing "towards a high risk of global recession".
This is closely linked to Uruguay's neighbours' problems since the "unreliability of Argentine policies will remain" and Brazil is expected to continue along the path of a "growing tendency to protectionism".
The EIU reports goes further and considers the possibility of "periodic diplomatic tensions" on the basis of "non tariff barriers from Mercosur trade partners that will most probably create difficulties for Uruguayan exports".
While Uruguay's commodities reach the world's main markets, manufactured goods are mostly absorbed by Mercosur partners.
Another worrisome projection for 2012 is the fact Uruguay's level of prices "is becoming increasingly less attractive compared to prices in the rest of the world". This implies a modest appreciation of the Peso and a slight drop for the real exchange rate.
The price of the US dollar is "estimated to drop more than in neighbouring countries (Argentina and Brazil) while prices will increase at an even faster rate" concludes the EIU report on Uruguay.