Caritas Spain: 22% of households below poverty line, another 30% on the cliff
Friday, February 24th 2012 - 19:07 UTC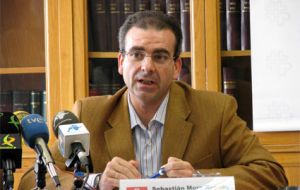 A report examining Spain's current levels of poverty has made national headlines after its launch revealed shocking figures. Caritas Spain has drawn attention to the precariousness facing millions of people at a time when networks of social aid are in danger of disappearing.
"If these disappear, poverty will shoot up," said Caritas secretary general Sebastian Mora.
The study commissioned by the Spanish Roman Catholic Church charity organisation, draws attention to the danger facing 11 million people who could fall below the poverty threshold, while confirming that there are around 30.000 homeless people across the country.
Among the findings in the report 'Exclusion and Social Development 2012' was published this week by Caritas Spain it states that already 22% of Spanish households are living under the poverty line with a further 30% facing serious difficulties in making ends meet at the end of the month and 580.000 Spaniards, nearly 3.3% of the population, receiving no income whatsoever.
"There are more poor people than last year, and they are poorer. After four years of financial hardship poverty is more widespread, more intense and it is creating a polarised society in which the difference between rich and poor is growing," said Caritas Secretary Mora.
Citizens are using 34% of their budget for their mortgages and 7% of the population cannot pay their home expenses on time.
In 2010, the poverty threshold further decreased to Euros 7.800 per year, that is, E200 less than in the previous year. Caritas expects the situation to get worse in 2012.
Spain is among the European countries with the highest poverty rates, totalling up to 21.8% of the population -- over the EU average of 16.4%. Only Romania and Latvia rank before Spain in the list.
The report focuses on the decrease of average revenues in Spain over the last years: average revenues shrank from Euros 19.300 in 2007 to today's E 18.500 that is a reduction of 4%.
"The Church is doing all it can to help fight poverty and the Bishop's Conference of Spain is going to donate five million Euros to Caritas Spain," said Mora.
"But the Church needs to do much more."
Last year Caritas helped and fed one million people, that is twice the numbers of 2007.