Liverpool final homecoming ceremony for Type 42 destroyer that carries city's name
Friday, February 24th 2012 - 19:31 UTC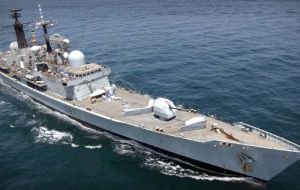 The City of Liverpool is preparing to give one of its proudest symbols a final homecoming it will never forget is sailing into the city for her last ever official visit, before the vessel is decommissioned following thirty years of outstanding service.
The Type 42 Destroyer will arrive at 9.30am on Wednesday 29 February, and already on board will be the Lord Mayor of Liverpool, Councilor Frank Prendergast who will have joined the ship's company a couple of days earlier.
On Friday 2 March from midday the ship's company will exercise their right to march through the streets of Liverpool following a private service at Our Lady and St Nicholas' Church. The 180-strong crew will be led by Commanding Officer, Commander Colin Williams, and an official Royal Marines band. They will march up Chapel Street, along Tithebarn Street, Moorfields, Dale Street and ending in Exchange Flags. The crew will be marching with bayonets fixed and drums beating – something they are allowed to do after they received the Freedom Right of Entry in 1982.
At Exchange Flags (approximately 12.15pm), the parade will halt for inspections, and a salute will be taken by the Lord Lieutenant and Liverpool's Lord Mayor. There will then be a special presentation by the Commanding Officer of HMS Liverpool, Commander Colin Williams, who will return the Freedom Scroll, which has taken pride of place on board the ship, to the city. The parade will then fall out for a civic reception at the Town Hall.
During the visit, the ship, which will be docked alongside the Cruise Liner Terminal, will be open to the public on Saturday and Sunday, 3 and 4 March, from 12 to 4pm. Thousands are expected to take the unique opportunity which will never again be repeated.
A special farewell will take place on Monday 5 March from 10.30am which will see the leader of Liverpool City Council, Councillor Joe Anderson say goodbye to the vessel on behalf of the city and singer Danielle Thomas sing three emotional songs You'll Never Walk Alone, Time to Say Goodbye and Land of Hope and Glory.
HMS Liverpool sails out at 11am, and will perform a five gun salute as she reaches Cammell Laird. She'll then turn around and do a final sail along the waterfront and perform another five gun salute as she sails past the Liver Building.
The ship was laid down at Cammell Laird's in 1978 and launched from the famous Birkenhead yard in 1980. She entered service in 1982 and has sailed the world for the Royal Navy in peace time and conflict ever since. Most recently, off Libya, she became the first Royal Navy ship to be fired upon for 30 years during her seven month deployment to the area.