Argentine all-party lawmakers group ratify Malvinas sovereignty claim in Ushuaia
Sunday, February 26th 2012 - 07:45 UTC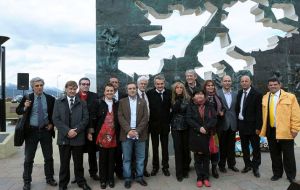 Argentine lawmakers from the entire political arch stamped on Saturday their support to the so called "Ushuaia declaration" claiming sovereignty over the Malvinas Islands and calling for dialogue with the UK to overcome the ongoing dispute.
Forty five members of Congress, Senators and Deputies signed the document in a special session of the Foreign Affairs committees from the two Houses in Ushuaia, capital of the Tierra del Fuego province which under the amended 1994 Argentine constitution includes jurisdiction over the Malvinas Islands.
The declaration ratifies the "legitimate and imprescriptible Argentine sovereignty over the Malvinas, South Georgia and South Sandwich and adjoining maritime spaces Islands".
The ten articles statement rejects the "persistent colonialist and militaristic attitude of the UK in the South Atlantic " and reaffirms Argentina commitment to dialogue and peace in the region as expressed in repeated UN assembly mandates.
The announcement followed a two hours symbolic session with the participation of all political parties with congressional representation. The declaration will be debated for its full ratification by both Houses in the first ordinary session of the Argentine Congress following recess.
The session was chaired by Deputy Guillermo Carmona and Senator Daniel Filmus. The ceremony was also attended by Tierra del Fuego governor Fabiana Rios who promoted the idea and hosted the event in Ushuaia.
Further on lawmakers expressed they were "profoundly grateful" to the governments of Chile, Uruguay and Brazil "for their recent manifestations iterating their commitment of barring Malvinas flagged vessels from their ports, thus supporting once again Argentina's position regarding the Islands' sovereignty"
They also thanked expressions of support from Mercosur, OAS, Unasur, Celac and the Bolivarian Alliance. Likewise with the Ibero-American summit, the South America-South Africa summit; the South American and Arab countries summit and from the Group of 77 plus China.
There is a special mention for the "European countries which constantly support" the initiative so that the EU reviews its treaties and acknowledges the "specific situation" of the overseas territories, as a consequence, "not only of Argentine statements but also from UN resolutions".
Lawmakers anticipated that the Ushuaia declaration will be sent to all parliaments, particularly in South America, and to all forums and international organizations to reject "UK unilateral and illegitimate actions" and support for the resumption of negotiations between both countries to achieve a "peaceful and definitive" solution to the South Atlantic Islands sovereignty dispute.
In related news the president of the Lower House Julian Domínguez requested that the G-20 summit of lawmakers taking place in Ryad, Saudi Arabia addresses the issue and calls on the UK to accept UN Resolution 2065 which calls for a bilateral dialogue between both countries on the issue.
"In the name of the entire Argentine congress and the diversity of political forces that conform it, I want to pronounce before this global parliamentarian space, the unrenounceable decision from Argentina to defend its territorial union with the Islas Malvinas and other South Atlantic Islands", said Dominguez addressing the special gathering.