China at turning point: current model is unsustainable says the World Bank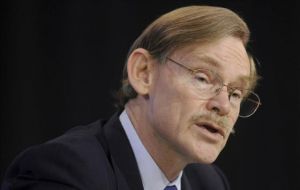 The World Bank has warned China's government that it must relax its grip on industry and move towards a free-market economy.
Speaking in Beijing at the launch of a report on the country's economic future, World Bank President Robert Zoellick said: "As China's leaders know, the country's current growth model is unsustainable."
"This is not the time just for muddling through. It's time to get ahead of events and to adapt to major changes in the world and national economies," Zoellick added.
An executive summary of the 400-plus page report, made public by Zoellick, had six broad recommendations for Beijing: strengthen a market-based economy, foster innovation, go 'green', provide social security for all, improve the fiscal system and seek mutually beneficial relations with the world.
Among other specific recommendations, it urged Beijing to commercialize banks and allow interest rates to be set by the financial market, develop its private sector, protect farmers' rights and cut local governments' dependence on land revenues.
The report forecast China will become the world's largest economy before 2030.
Judging the country to be near an inflection point in its economic growth, the World Bank called on Beijing and its incoming leaders to overhaul the structure of the world's second biggest economy to keep income and productivity rising in the years ahead.
Zoellick acknowledged that the World Bank and Beijing had disagreed over the contents of the report, which is prepared by the Bank and the Development Research Centre, a top Chinese think-tank that advises China's cabinet, the State Council.
But Zoellick said the report "stops short of being overly prescriptive", as requested by Chinese authorities, and recognizes that any recommendation needs further discussion within Beijing before they can be implemented.
"The report is realistic. Reforms are not easy. They often generate pushback," he said. "We have tried to recognize obstacles to reforms, suggest sequencing and quick wins, steps that can make reforms easier to implement."