Gibraltar and La Linea address common issues that "concern the real people"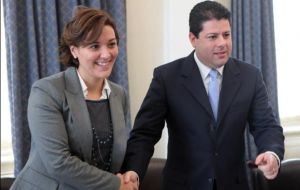 Gibraltar Chief Minister Fabian Picardo received at Convent Palace neighbouring La Linea Mayor Gemma Araujo to review issues of mutual interest and concern, during a meeting followed by a press conference which was described as very positive.
"It has been a great pleasure welcoming Sra Araujo and her team to talk about all the things that concern real people and where we may be able to make a difference" said Picardo underlining the optimum personal relationship, which he said, was facilitated by the fact that they were both leaders of Socialist organisations.
"This is not essential but it makes it easier," they declared, while conveying a desire to further cultural, educational and sporting exchanges as a means to enhance cross-border friendly relations.
Sra Araujo noted that this was the first official meeting with the new Chief Minister and that they had dealt with matters affecting citizens on both sides motivated by a constructive spirit of dialogue.
She was also grateful at the "sensitivity shown by Picardo" toward Spanish workers, by promoting greater awareness about the need to register to obtain their bus passes for daily transport from the frontier. Sra Araujo also welcomed the developing initiatives to solve the Western Beach sewage problem.
"These are important issues for good neighbourly relations which is our aim," she declared.
The Mayor of La Linea also recalled the history shared by Gibraltar and La Linea, arguing that it should be normal for both sides to have the same mutual interest in solving problems that affect them.
However since the change of Government in Madrid, she did not know whether reaching an agreement with the La Linea Ayuntamiento for the construction of the northern access to the Gibraltar air terminal was now a priority of the new PP administration.
Sra Araujo also made it clear that she was not an envoy of the Spanish Foreign Office but the Mayor of La Linea whose primary concern was the quality of life of her citizens and good relations with Gibraltar, "regardless of the Partido Popular Government statements".