A quarter of people in England support Scotland becoming independent
Tuesday, February 28th 2012 - 17:33 UTC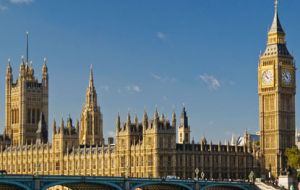 Just over a quarter of people in England support Scotland becoming independent, a new survey has found. The latest NatCen Social Research British Social Attitudes Survey found 26% of English residents favoured ending the union between the two countries, the highest figure yet in such a survey.
The study suggested there were some signs of increased frustration about Scotland's position in the union, with 31% of people in England saying they "strongly agreed" that Scottish MPs should not be able to vote on English laws - up from just 18% 10 years ago.
The number of English people who feel Scotland gets more than its fair share of public spending has also been on the rise, with 44% now feeling this is the case, compared with 21% in 2000. However, the number of people in England who believe this is only slightly higher now than in 2008, when the total was 41%.
Those living south of the border are fairly evenly divided between those who regard themselves as primarily British (43%) as those who said they are mainly English (42%).
And those who describe themselves as being English are only slightly more likely to believe Scotland gets a disproportionately high amount of public cash than those who class themselves as English. Exactly half of those who say they are English feel this way, compared to 44% of those who regard themselves as British.
Meanwhile more than half of people - 56% - believe England should continue to be governed by the UK Parliament, rather than by an English parliament or regional assemblies.
Rachel Ormston, a research director at NatCen Social Research and the author of the released report, said: "Although public opinion in England has been affected by debates about devolution in the UK, this does not appear so far to have translated into either a majority demand for a change to the way England is governed or to a widespread call for Scotland to leave the union".