Argentine government takes over train line involved in tragic accident
Tuesday, February 28th 2012 - 19:07 UTC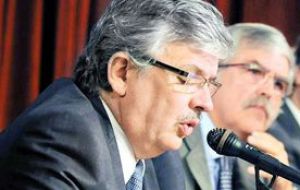 The Argentine government announced on Tuesday it was taking over two train lines, one of which was involved in last week's tragic accident in a downtown Buenos Aires terminal which killed 51 people and left another 704 injured.
At a press conference Planning Minister Julio De Vido and Transport Secretary Juan Pablo Schiavi said the government would take over the Sarmiento and Mitre train lines belonging to TBA (Trenes de Buenos Aires) during a 15-day-period or until there is some advance in the probe.
Both officials described the resolution which had been cleared by President Cristina Fernández over the weekend as "administrative, technical and operational." They also informed that Raúl Barido, current head of the SIGEN (Syndicate of the Nation Office) , will be leading the temporary administration of the train lines.
"Preventative and urgent measures must be taken in order to guarantee passenger safety and ensure the preservation of the service," read resolution 199, minutes before the ministers gave their speeches.
Schiavi described the two lines as "essential" and asked passengers to "collaborate during this time, as timetables could be changed" over the 15-day period. He went on to justify the designation of Barido to lead the administration, saying "we have designated a professional with 24 years experience to oversee the work."
De Vido stated "we are trying to analyze objectively and transparently into what happened" further commenting that "this tragedy moves us all. The resolution was created in the interests of the public."
The Planning minister also made it clear that "it's not just a question of why. We are working in order to make sure the service is not interrupted and ensure safety."
In addition, the Transport Secretary again thanked all of the staff from across the police and emergency service centres, for their efforts during the past five days since the tragic crash occurred.
On Monday Cristina Fernández told the nation in a televised speech from Rosario, that they were willing to "take the necessary decisions" with regard to the dealing of the tragedy's aftermath.