Banning cruise vessels coming from Malvinas, "cheap way of making sovereignty"
Tuesday, February 28th 2012 - 19:54 UTC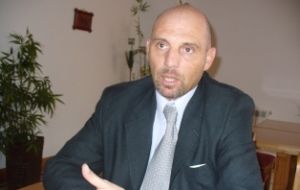 The law was 'misinterpreted' and "the authorization awarded to cruise vessels by the (Argentine) Foreign Affairs ministry was ignored", claimed the president of Ushuaia Chamber of Tourism Marcelo Lietti reacting to the weekend decision to bar two red ensign cruises from entering Tierra del Fuego.
"This is a cheap way of making sovereignty and I would like to know who is going to be responsible for all the losses generated", said Lietti who underlined that 5.000 tourists and crewmembers were unable to come ashore and "hundreds of Ushuaia families" were left without an opportunity to make some money.
Over the weekend the provincial government of Tierra del Fuego, which under the amended 1994 Argentine constitution also includes Antarctica and the Malvinas Islands, decided to ban the docking in Ushuaia of two cruise vessels with UK convenience flags.
The decision was based on a provincial bill implemented four months ago, called the 'Gaucho Rivero' bill, and which bans the permanence, supply or logistic operations in Tierra del Fuego for vessels flying the UK or convenience flags.
But the Ushuaia Tourism chamber and most of the business community were furious with the decision arguing the bill was "totally misinterpreted".
One of the cruises, 'Star Princess' was flying the Bermuda flag and was planning to dock early Monday, following two days in the Falkland Islands.
"The decision made the vessel leave for Punta Arenas. But is all started at 04:00 in the morning when somebody decided to misinterpret the law. It seems nobody cared a damn about the tourist industry and all its agents and services we were ready to offer the tourists in Ushuaia", said Lietti.
"We regret profoundly all the lost opportunities for our local businesses and workers from the tourism industry, given the number of persons on board which were expected, over 5.000 between passengers, tourists and crew members".
"We receive 450 cruise calls every season. We're the most important port in this industry in the Southern Cone, but we are doing everything possible for the cruises to leave and not return", complained Lietti.
"We believe that when lawmakers work, they must represent the whole community of Tierra del Fuego, not only some of them. They must have more common sense and think in all of us. Are we going to defend sovereignty even when it means harming the people? this is one side of the story I don't understand", emphasized Lietti.
"We feel powerless because people have been working for over thirty years to promote the cruise industry, and then some groups come by for a few hours and for political reasons spoil the whole effort", added the president of the Chamber of Tourism.
Finally Lietti said that "we are in the headlines of national media, but I feel totally disappointed and frustrated because it is for a political reason, of the moment, but which can have a huge impact on the lives of people who depend on the industry".