Argentines flood Chile to purchase electronic devices and home appliances
Wednesday, February 29th 2012 - 07:14 UTC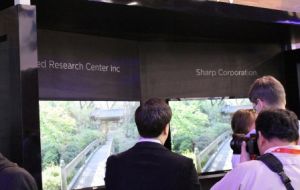 Seven out of ten Argentine cars that cross to Chile return home with electronic devices and home appliances bought in some Chilean city, according to a report from the Buenos Aires daily La Nación.
The newspaper says that contrary to what happened a decade ago, residents in the neighbouring provinces of Mendoza and San Juan are flooding the Chilean shopping malls each time the official Argentine calendar signals a long weekend.
During the last long weekend of Carnival (18 to 21 February), 25.000 cars crossed to Chile, overtaking the numbers registered for last year's Americas Soccer Cup (won by Uruguay). Argentines returned with technologic devices such as LCD and notebooks, plus fridges, washing machines, bicycles and even children's uniforms and stationary for the coming school year.
La Nacion points out that a LED HD 42 inches costs the equivalent of 3.000 Pesos in Argentina, equivalent to 700 US dollars while the price for a similar one in Argentina is closer to 5.300 Pesos. Customs duty at the border for an LED HD 42 inches introduced by a family of four is 525 Pesos, which anyway means savings of 2.000 Pesos.
"It would be stupid not to take advantage of such bargains", an Argentine resident is quoted regarding the opportunity to purchase imported goods in Chile.
Most residents from Mendoza and San Juan that cross over to Chile for holidays mainly Viña del Mar also apparently stop at the city of Los Andes, 268 kilometres from Mendoza, which has become a huge shopping mall for avid Argentine consumers.