Argentina escalates trade brawl with UK: suggests EU-Unasur analyze Malvinas dispute
Thursday, March 1st 2012 - 04:48 UTC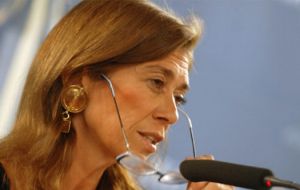 The Argentine Foreign Ministry suggested in an official Wednesday release that "the EU and the Union of South American nations (UNASUR) analyze the Malvinas islands conflict and urge both countries (UK and Argentina) to negotiate".
The announcement follows the UK's request to the European Union to express concern regarding the Argentine plea of not buying British products.
The British Foreign Office met with Argentine chargé in London Osvaldo Marsico, and claimed an urgent clarification of Minister of Industry Debora Giorgi's words.
"We made clear that such actions against legitimate commercial activity were a matter of concern not just for the UK, but for the EU as a whole, and that we expect the EU to lodge similar concerns with Argentine authorities," said the British foreign office in a statement.
The European Union announced that it would begin the appropriate diplomatic proceedings with Argentina to try and solve the trade conflict with the UK.
"The European Union will begin the appropriate diplomatic proceedings with the aim of clarifying the legitimate trade concerns" EU Trade spokesman John Clancy assured.
"We have raised our concerns with the Argentine Chargé in London this afternoon, who will report back to Buenos Aires for urgent clarification."
Meanwhile, the Argentine Foreign Affairs Ministry released a statement suggesting the EU mediates the Malvinas conflict. "The Argentine Chargé in London, Osvaldo Mársico, was informed by the Foreign Office that the UK will appeal to the European Union to inform over the recent controversies that broke out between both countries.
Argentina is pleased to see that the UK government has finally resorted to an international organization to find a diplomatic solution to the Malvinas issue.
Argentina proposes that the European Union, alongside the Union of South American nations analyze the Malvinas islands issue and summon both countries to restart talks urged by the UN General Assembly on several occasions and that England ignores, showing contempt to the highest organization for the peaceful solution of countries between nations and thus putting multilateral organizations at risk," the communiqué stated.
Earlier, the trade ban call was called 'counter-productive' by a UK government official. "It is not in Argentina's economic interest to put up barriers," the UK spokesman told the press.
"We are also a major investor in Argentina and we import goods from Argentina," he remarked. "The right approach here is one of cooperation not confrontation," the official added.
Yesterday, Giorgi urged company executives to stop importing British goods, ministry sources said, further straining ties as the 30th anniversary of the Malvinas War approaches.
"We think that's counter-productive and also a complete misreading of Britain's resolve on this issue," the spokesman for British Prime Minister David Cameron told reporters.