Morrissey joins the controversy saying the "Falklands belong to Argentina"
Saturday, March 3rd 2012 - 04:43 UTC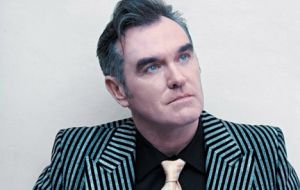 Morrissey has waded into the row over the Falkland Islands telling the audience at an Argentine gig that they "belong to you". The former Smiths front-man, who counts Prime Minister David Cameron among his fans, made the remarks during a concert in Cordoba, Argentina.
He said: "You know of course the Malvinas Islands, everybody knows they belong to Argentina so please do not blame the British people, we know the Islands belong to you."
He is the latest in a line of celebrities to voice their opinion amid heightened tensions between Britain and Argentina over the islands, which led to the two nations going to war in 1982.
Earlier this week former Pink Floyd star Roger Waters said the Islands should belong to Argentina, during an interview on television.
Waters has taken a strong anti-war stance for many years and aired his opposition to the Falklands War in Floyd's 1983 album The Final Cut.
The bass player, who was just five-months-old when the father he never met was killed during the Second World War, was in Chile to perform a live version of The Wall, which has a strong anti-conflict theme.
Last week, US actor and director Sean Penn aired his views on the subject. He said the UK should join in UN-sponsored talks, adding: "I think that the world today is not going to tolerate any kind of ludicrous and archaic commitment to colonialist ideology."