Dalby man has his own island in the Falklands, a photographers' paradise
Monday, March 5th 2012 - 19:22 UTC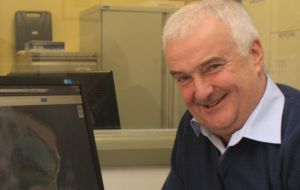 There aren't too many people in the world who can say they own an island, but John Hellowell is one of them. Necker Island it isn't, but Dalby man John Hellowell is justifiably proud of his piece of paradise – a small nature reserve in the Falkland Islands, known as The Kidneys.
A report from iomtoday.com.im says that John, a talented amateur photographer, has been visiting the Falklands every year for the last decade and has fallen in love with the place and the people.
"About four or five years ago, on one of the trips, I was staying with friends I met there" he explained. "They farm a 28,000-acre island called Lively Island and I asked them what they did with all of the smaller islands out there".
"They said they'd sold one a few years ago as a private island and had donated another one to conservation. They said there was one out there two miles offshore which they used to put their rams on. 'I asked if they'd sell it and we came to an agreement over a cup of tea and a bun".
'It has 15 acres, the size of half a dozen football pitches. I keep it as a private nature reserve. I allow the schools onto it for education purposes and for research purposes. About three years ago the RSPB got an EU grant to look at invasive species on 20 islands in the Falklands and mine was one of them.
"So now we know exactly what's on there – we know there are sea lions, penguins and a very rare species of bird called the Falklands Cobbs Wren".
"It's an endemic species to the Falklands and there are only 200 breeding pairs in the world. Ours are breeding, so it's quite a responsibility".
"I love the wildlife, the people and the solidarity" said John, who spends 18 hours on an RAF plane out of Brize Norton to get to the Falklands each year.
"The remoteness about the place is incredible. It has a land area the size of Wales and a population the size of Port St Mary. The solitude is unbelievable".
"For example, on Christmas Day I was staying with my friends at Goose Green and I woke up and went out on a quad bike. I went for 70 miles and I never saw a person, a house or even heard a person. I could have gone for miles further and still not seen anyone".
"I'm not a loner, but I do love the scenery and the solitude and the wildlife".
John, who has a son Ben and runs the Strand Group business from the Spring Valley Industrial Estate, has been known to sit for hours, poised with his camera to get exactly the right shot.
"I can sit for three hours just waiting for one photo," he said. "Then you get that picture and it's incredible".
"The natural light is unbelievable. The birds and animals are not frightened of you either because they don't get much human contact. They just don't see you as a threat – they are curious".
One shot taken by John is of a shipwreck called the Lady Elizabeth. The vessel has Manx links, having been bought by Castletown family the Cubbons in the late 1800s.
"She got into difficulties in 1907 when she went around the Cape Horn", explained John.
"She was brought to the Falklands where she was condemned but she was used as a floating warehouse until 1935 when she broke her moorings and drifted up into the sound. She's almost as big as the Ben My Chree, to put it into context".
Most would consider the Isle of Man a relatively quiet place to live but John knows better. So can he ever see himself moving to the Falklands full time?
"I think in old age and retirement I can see myself buying a property out there", he said. "It would be nice to spend our winters in the Falklands, when it's summer out there".