Spanish unemployment keeps rising; dispute with the EC over the deficit target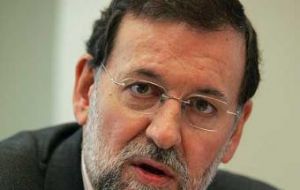 The number of people claiming unemployment benefit in Spain rose by 112.269 in January, taking the overall figure to 4.7 million. Spain's unemployment rate stands at 22.9%, the highest in the 17-nation Euro-zone.
The Spanish economy posted negative growth in the fourth quarter of last year and is expected to enter recession this quarter.
The new conservative right-leaning Popular Party government has introduced a series of reforms in a desperate attempt to shake up the economy but it acknowledges that unemployment is likely to continue rising throughout this year.
The employment ministry said on Monday that the total number of people claiming benefits was up by more than 400.000 from February last year.
Spain's Prime Minister says the country will miss its deficit goal for this year, risking sanctions from the European Union.
Mariano Rajoy said the government deficit will reach 5.8 % of economic output this year, much higher than the 4.4% Madrid had promised to the other EU states. However, he said Spain still aims to cuts its deficit to 3% in 2013.
Spain missed last year's 6 % deficit target - it recorded a 8.5 % total instead. But a spokesman for the European Commission said that the EU's executive had not softened this year's goal.
However European Commission President Jose Manuel Barroso said on Monday he was confident Spain would fulfil its EU budget discipline commitments despite setting itself a softer 2012 deficit target than originally planned.
Addressing reporters during a visit to Vienna, Barroso said the Commission had not yet seen Spain's 2012 budget and needed more information about the "slippage" Madrid had in 2011 so he could not comment in detail.
"I have no doubts that the government will honour its commitments with respect to the stability and growth pact," he added.
Spain's new 2012 budget target is easier than originally agreed under the Euro zone's austerity drive, putting a question mark over the credibility of the European Union's new fiscal pact.
PM Mariano Rajoy insisted he was acting within EU guidelines because the plan was still to hit the European Union public deficit goal of 3% of GDP in 2013.
The gambit will force the EU to decide whether to punish Spain for missing the initial target. Barroso noted that Rajoy had signed the EU new fiscal pact on Friday and added: "I am sure that Spain will honour its commitments to financial and budgetary stability