Uruguayan economy forecasted to expand 4% to 4.5%; inflation main challenge
Monday, March 5th 2012 - 05:50 UTC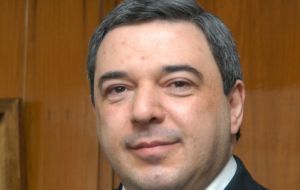 Uruguay's economy is poised to expand 4% to 4.5% this year, a moderate slowdown from the growth of just over 6% seen in 2011, the president of the central bank Mario Bergara told reporters during an IMF conference held in Punta del Este.
Domestic factors such as inflation and the global slowdown are to blame for the more moderate growth, which follows "unsustainable" expansion levels averaging 6.5% over the past seven years, argued Bergara.
Uruguay has enjoyed strong economic growth amid high global commodity prices and booming economies in its main trading partners Brazil and Argentina.
The cooling is expected to help stem inflation, which is still expected to end 2012 at 7%, well above the government's target of 4% to 6%, Bergara admitted in the sidelines of the IMF conference.
The escalation of prices is the natural result of the strong growth seen in recent years and high consumer confidence as residents saw their income swell, Bergara said.
In January, the country's consumer inflation was up over 8% on the year as housing, hotel and restaurant prices jumped.
Bergara added that the country's banking sector is in good shape, with high liquidity and capital reserves averaging about 50%, double the required amount.
Part of the government's strategy involves a sharp reduction in exposure to its volatile neighbor, Argentina. "In all, Argentina is relatively less important (to Uruguay) than a decade ago," Bergara said.
Uruguay is enjoying record-low unemployment levels, with the jobless rate slipping to 5.3% in December. Faced with strong economic growth and rising inflation, the central bank on Dec. 29 raised its benchmark interest rate by 75 basis points to 8.75%, bringing the increase through 2011 to 2.25 percentage points.
Also in December, Uruguay issued the equivalent of $2 billion in local currency inflation bonds maturing in 2028 to reduce its foreign currency-denominated liabilities.
However economists from the opposition point out that in spite of the booming years the government has only managed primary surpluses and the fiscal deficit remains steady. Furthermore the strong Uruguayan peso is making exports less competitive and equally delicate the majority of Uruguayan manufactured overseas sales are to Argentina and Brazil, both involved is protectionist policies.
Likewise higher interest rates attract a greater influx of capital looking for better rates, thus further strengthening the Peso and deteriorating competitiveness, in a domestic market with shortage of qualified labour and very strong unions.