Argentina announces a museum for the ARA Belgrano marines killed during the Falklands conflict
Tuesday, March 6th 2012 - 05:16 UTC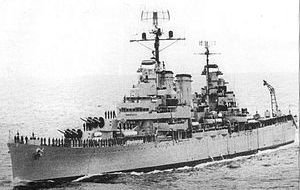 Argentine President Cristina Fernandez says a new museum dedicated to the Falklands/Malvinas Islands will honour Argentine marines killed trying to reclaim them from Britain 30 years ago.
The Argentine president announced details of the 20 million dollars museum on Monday. She said it would honour the more than 300 marines killed in the sinking of the warship ARA Belgrano on 2 May 1982.
Cristina Fernandez confirmed the museum would be in the former Navy Mechanics School that served as a detention and torture centre during Argentina's 1976 to 1983 military dictatorship. She said its inauguration was set for August 2013
The former Navy barracks already host a museum dedicated to the thousands of disappeared and human rights abuses victims during the last military Junta.
The ARA General Belgrano was a light cruiser, formerly USS Phoenix, and was sunk by the nuclear powered submarine HMS Conqueror with the loss of 323 lives, almost half of Argentine deaths in the Falklands' conflict. She was escorted at the time by two destroyers, ARA Piedra Buena and ARA Bouchard, as Task Group 79.3.
The vessel was the second to have been named after the Argentine founding father Manuel Belgrano (1770–1820). The first vessel was a 7.069-ton armoured cruiser completed in 1899.
The order to sink the Belgrano triggered a controversy that persists since according to reports of the time she was leaving the exclusion zone imposed by the British surrounding the Falkland Islands when she was torpedoed.
However Admiral Enrique Molina Pico, head of the Argentine Navy in the 1990s, wrote in a letter to La Nación, published in the 2 May 2005 edition, that the Belgrano was part of an operation that posed a real threat to the British task force, that it was holding off for tactical reasons, and that being outside of the exclusion zone was unimportant as it was a warship on tactical mission. This is the official position of the Argentine Navy, he said.
Likewise in late 2011, David Thorp, a former military intelligence officer who led the signals intercept team aboard the HMS Intrepid, released the book 'The Silent Listener' detailing the role of intelligence in the Falklands War.
The book revealed that despite the fact that the ARA Belgrano was observed by HMS Conqueror sailing away from the Falklands at the time of the attack, it had actually been ordered to proceed to a rendezvous point within the Exclusion Zone, to engage in a pincer attack.
A report prepared by Thorp for PM Thatcher several months after the incident stated the destination of the vessel was not to her home port as the Argentine Junta stated, but was not released because the Prime Minister did not want to compromise British signals intelligence capabilities.
David Thorp recently visited the Falkland Islands on a cruise.