Brazil growth in 2011, slowest since 2003, but 2 million jobs were created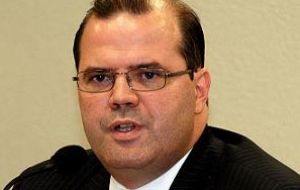 The Brazilian economy last year registered its second-worst performance since 2003 as higher borrowing costs and a currency that rallied to a 12-year high led it to under-perform emerging-market peers China and India.
GDP expanded 2.7% in 2011 even after growth accelerated in the fourth quarter, the national statistics agency said on Tuesday. That was well below the 7.5% growth in 2010.
Nevertheless Finance Minister Guido Mantega said Brazil's economic growth in 2011 was "satisfactory," --despite being slower than in 2010--, because almost two million jobs were created and Brazilians' standard of living improved.
However the GDP figure underscores central bank President Alexandre Tombini's view that the economy is growing below capacity amid Europe's debt crisis, reinforcing bets that the central bank may accelerate the pace of interest-rate cuts on Wednesday.
Growth in Latin America's biggest economy will gain speed and reach an annualized pace of more than 5% in the second half of the year, anticipated Mantega.
After a 7.5% expansion in 2010, Brazil's growth last year trailed India and China -- its peers in the BRIC group of large emerging markets. Growth in the 2.4 trillion dollars economy also lagged the International Monetary Fund's forecast of 4.6% average growth in Latin America last year while exceeding the 1.6% expansion forecast for advanced nations.
Economic expansion last year slowed as the central bank increased rates through July to combat inflation. Even though policy makers have since reversed course, cutting the Selic rate by 200 basis points to 10.5% to shield the country from Europe's debt troubles, Brazil's inflation-adjusted benchmark rate, at 4.3%, remains the highest among the Group of 20 richest nations.
Companies from steelmakers to textile firms struggled last year as the Real rallied to a 12-year high of 1.54 against the US dollars in July, reducing the cost of imports. Among the hardest hit was shoemaker Vulcabras Azaleia SA, which said in December it was closing six factories due to import competition.
Manufacturing fell 3.1% while household consumption was up 2.1% in the fourth quarter compared with a year earlier, the statistics agency said. The country's investment rate fell to 19.3% of GDP compared with 19.5% a year earlier.
"Brazil is losing its industry, the situation is the worst in years," said Robson Andrade, head of the Brasilia-based National Industry Confederation. "We're losing competitiveness because of the strong currency and the Brazil cost," he said referring to obstacles to productivity in Brazil such as aging infrastructure, a tax burden of around 36% of GDP and a shortage of skilled labour.
President Dilma Rousseff has come to the aid of industry by reducing taxes on consumer goods and boosting public works ahead of the 2014 World Cup and the Summer Olympics two years later. She has also attacked loose lending conditions in Europe and the US for unleashing what she said in Hanover, Germany, was a "monetary tsunami" fuelling currency gains in Brazil and other emerging markets.
While manufacturers have struggled, foreign companies betting on strong demand from a growing middle class plowed a record 67 billion dollars in foreign direct investment into the country last year. Services last year expanded 2.7% as unemployment fell to a record low and incomes rose.
Auto manufacturers including Anhui Jianghuai Automobile Group Co. from China and Germany's Bayerische Motoren Werke AG plan to invest an estimated 30 billion Reais in Brazil over the next three to five years, according to the Trade Ministry.
However private economists feel the Brazilian recovery may soon run into capacity constraints that reignite inflation concerns, forcing a reverse course and raising rates again next year to prevent inflation from picking up, as futures contracts show.
While the pace of price increases is slowing, inflation has remained above the government's 4.5% target since August 2010. In mid-February it stood at 5.98%.
Analysts expect Brazil's economic growth to accelerate to 3.3% this year and to 4.15% next year, according to a March 2 central bank survey of around 100 economists.