China targets 7.5% economic growth as it prepares for change of leadership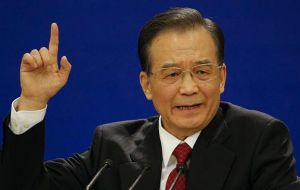 China expects economic growth of 7.5% this year as it looks for more sustainable expansion, prepares for a change in leadership and rides out a global slowdown. Premier Wen Jiabao unveiled the target at the start of the annual National People's Congress.
Despite setting a target of 8% growth over the past eight years, China has regularly grown more quickly. This has caused problems including high inflation and a widening wealth gap.
Last year, China's GDP, or annual economic output, grew by 9.2%. In 2010 GDP grew 10.4%.
Chinese leaders have said that economic stability is a priority for the country this year, ahead of its planned change of leadership in the autumn.
"I wish to stress that in setting a slightly lower GDP growth rate, we hope... to guide people in all sectors to focus their work on accelerating the transformation of the pattern of economic development and making economic development more sustainable and efficient" Mr Wen said.
Analysts said a stimulus package introduced after the 2008-2009 global financial crisis had contributed to bubbles in the property market and high inflation. High consumer prices, especially the cost of food, have previously caused unrest in China.
Inflation was 5.4% in 2011, higher than the government target of 4%. The target for 2012 was also set at 4% by Mr Wen.
"China's economy is encountering new problems. There is downward pressure on economic growth. Prices remain high. Regulation of the real estate market is at a crucial stage," Mr Wen said.
The premier also said boosting domestic consumption was "crucial".
"Expanding domestic demand particularly consumer demand which is essential to ensuring China's long-term, steady, and robust economic development is the focus of our economic work this year," Mr Wen said.
Boosting domestic demand is aimed at countering the effects of the Euro zone debt crisis and slowing of the US economy which have led to a drop in demand globally for Chinese exports.
He also spoke of measures to make sure that economic prosperity was shared more evenly. To that effect, he said the government would boost spending on social services and raise incomes for middle and low-income groups, as well as expand consumer credit.