Uruguay will attend the SeaTrade Cruise industry fair in Miami next week
Wednesday, March 7th 2012 - 03:21 UTC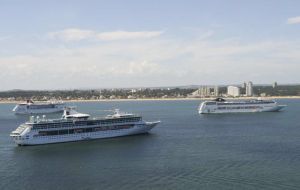 Uruguay will attend the SeaTrade fair in Miami, the greatest event of the cruise industry scheduled for next March 12/15 at the Miami Convention Centre.
The delegation will be headed by Deputy Tourism and Sports minister Lilian Kechichian, the Director of the ministry, Benjamin Liberoff and the stand at the fair will be the responsibility of Ana Pascale, who also leads the Cruise vessels Department.
Likewise there will be representatives from the local governments of Montevideo, Punta del Este, Uruguay's Ports Authority and operators from the private sector.
During the four day event the delegation will hold interviews with top executives from the cruise lines companies presenting plans and strategies for future seasons as well as promoting Uruguay and the ports of Montevideo and Punta del Este as recreation centres for cruise visitors.
The delegation is also scheduled to make presentations in several Miami hotels and travel organizations jointly prepared with the Uruguayan Consulate in the city with the purpose of promoting Uruguay in the US. Invitations will be extended to media and magazines which specialize in tourism and travelling.
The fair is targeted to the cruise industry operators, governments and private sector, and involves not only ports and destinations but also the whole range of service and goods providers to the industry.
The cruise industry in Uruguay has been expanding sustainedly for several years with hundreds of port calls and thousands of visitors, both in the capital Montevideo and the Atlantic seaside resort of Punta del Este.
The industry in South America has grown exponentially with two main sources: the traditional longer cruises made up mostly of out of the continent visitors touring the region usually for the first time, and the regional shorter cruises which attract thousands of Brazilians, Argentines and to a certain extent Chileans, a reflect of the strong economies.