US Southern command watchful of political turbulence in Latam
Wednesday, March 7th 2012 - 02:59 UTC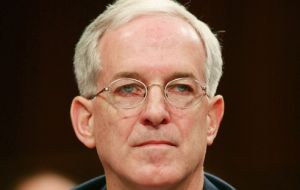 United States Air Force Commander, General Douglas Fraser, in charge of the US Southern Command, stated before Congress that the Department of Defence is "watchful for potential geopolitical turbulence that could impact US citizens," and highlighted the uncertainties of Venezuela's President Hugo Chávez health and economic instability.
General Fraser mentioned before Congress that the current situation of certain countries in Latin America could also lead to an impact in military personnel in the region, referring to Venezuela, Cuba, Haiti and Bolivia.
Regarding Venezuela, he insisted that the uncertainties about Chávez health "continued economic instability and escalating levels of violence are placing increasing demands on the Venezuelan government."
Fraser also showed his concern over the intention of Iran to approach the relationship between nations aligned with the Bolivarian Alliance for the People of our Americas (ALBA), Venezuela among them, and assured that it has succeeded "in establishing modest economic, cultural, and security ties" with most of them.
The General referred to the lack of cooperation of the Venezuelan government regarding the fight against drug-trafficking and added that the crimes reached unexpected levels.
He also stated that "Fidel Castro's leadership transition to his brother Raul is complete, but the long-term effects of the government's market reforms remain to be seen".
Fraser added that Haiti has made a slow "but steady progress" after the earthquake, and it is still vulnerable to natural disasters and "economic hardship."
On the other hand, he assured that "public demonstrations in Bolivia related to wages, food prices, and energy shortages are likely to continue until the government addresses the underlying causes of social turmoil."
Fraser stated that "we'll focus our efforts in strengthening the security capacities of our partners in Central America."