Anti British-Falklands incidents in south Argentina with UK flagged cargo vessel
Friday, March 9th 2012 - 05:59 UTC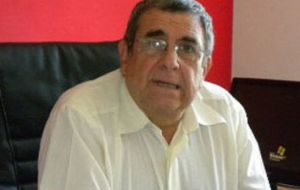 Serious incidents broke out on Thursday in the Argentine Patagonia port of Comodoro Rivadavia when a British flagged cargo vessel docked to load cement and were met with anti British-Falklands protestors.
The protestors carrying Argentine flags first tried to convince truck drivers, suppliers and dock workers to cease activities and not load the vessel, but then discussions turned into violent clashes in spite of the fence off set up by Coast Guard personnel.
The vessel had docked for a second load of cement from the local Petroquímica plant which, as the first was destined to Paraguay.
The head of the Comodoro Rivadavia port authority Oscar Ruiz revealed he had consulted before allowing the vessel in and that although she flies "a British flag" the vessel "is not British".
Since the city of Ushuaia turned back two cruise vessels allegedly flying British or convenience flag, and because they were coming from the Falkland Islands, there has been a rash of calls from certain groups to ban all such vessels, whether they are involved in normal cargo or tourism.
But the tourism industry in both provinces has strongly reacted to the implementation of such measures against vessels involved in the tourism trade,
However Ruiz recalled that the controversial "Gaucho Rivero" bill only applies to vessels involved in the exploration and exploitation of natural resources in the Malvinas Islands and surrounding waters, but "this was not the case".
Ruiz admitted he consulted before allowing operations and insisted that the vessel loaded with cement, on the second of three trips, is heading for Uruguay and Paraguay and its permanence in Comodoro Rivadavia is "totally legal".
Bill 105/11 in its first article is most clear, it bans "the permanence, docking or supplying or logistic operations, in the provincial territory, of vessels with the British or convenience flag involved in activities not allowed by the Argentine government and linked to the exploration and exploitation of natural resources".
Furthermore and contrary to Tierra del Fuego, the province of Chubut (Comodoro Rivadavia) has assured tourist operators that all cruise vessels, including British or convenience flagged, are 'welcome'. The decision was announced with anticipation to coming cruise calls and argues that the interpretation of the 'Gaucho Rivero' is very clear: it is not extensive to tourism vessels.