Argentine Jubany Station renamed.
Sunday, March 11th 2012 - 14:07 UTC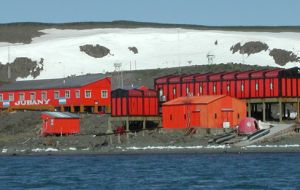 At a ceremony held in Government House President Cristina Fernandez de Kirchner announced the renaming of the Jubany Scientific Station in Antarctica, now to be known as Carlini Station, in memory of biologist Alejandro Carlini who died in 2010.
The President said that in remembering Carlini, tribute was being paid to "all the scientists who work tirelessly in Antarctica".
Carlini Station - coordinates: 62°14' S / 58°40' W - is one of Argentina's six year-round or permanent bases, first established in 1953 in Potter Cove on the south west side of King George Island, in the South Shetland Islands.
It had originally been named after Argentine naval pilot Lieutenant José Isidro Jubany killed in a flying accident in Santa Cruz in 1948.
This is the first Argentine station to be named after an Antarctic scientist. The 13 existing Argentine stations – six permanent and seven summer only - are either named after geographical features: Deception, Esperanza, Melchior, Orcadas and Primavera; national heroes: San Martin, Belgrano and Brown; birds: Petrel or military personnel: Matienzo, Marambio, Camara or Jubany, now Carlini.
Located on the largest of the South Shetland Islands near other bases belonging Brazil, Chile, China, South Korea, Poland, Russia and Uruguay, as well as several other summer stations and close to a colony of more than 15,000 penguins and several hundred sea lions, Carlini Station has a maximum lodging capacity for 60 people, with an average winter population of 20 people.
The current year round station was erected in 1982, and has 15 buildings, two laboratories - including the prestigious Dallman Laboratory opened in 1994 - jointly with The Netherlands and Germany as well as Antarctica's only movie theatre.
Dr. Alejando Carlini, who died of heart attack in 2010 at the age of 47, was a marine biologist, specializing in southern sea marine mammals and had joined the Argentine Antarctic Institute in 1987 and worked initially the South Orkney Islands carrying out 15 consecutive Antarctic summer campaigns. He was the author of numerous scientific papers and was well respected in the Antarctic scientific community.
Nick Tozer – Buenos Aires