Workers for Antarctica sought
Monday, March 12th 2012 - 07:56 UTC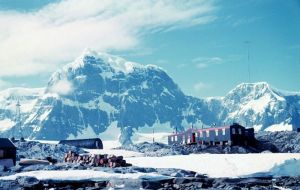 The United Kingdom Antarctica Heritage Fund UKAHT (http://www.ukaht.org/) is seeking new candidates to work at Port Lockroy for the 2012/2013 season. Deadline for applications is at 12 noon on the 30th March.
The former British Base A at Port Lockroy on tiny Goudier Island is now one of the most popular tourist stops in Antarctica. In 1996, the abandoned British base was renovated, becoming a museum, souvenir shop and post office operated by the UK Antarctic Heritage Trust.
Proceeds from the small souvenir shop fund the upkeep of the site and other historic sites and monuments in Antarctica.
Usually two ships a day visit Port Lockroy, - now designated as Historic Site N° 61 under the Antarctic Treaty - being visited by some some 15,000 tourists during the Antarctic summer.
Port Lockroy is 0.8 kilometer long a natural harbour on the western side of Wiencke Island in the palmer Arcghipelago of the Antarctic Peninsula.
Discovered in 1904, it was named after Edouard Lockroy, a French politician and Vice President of the Chamber of Deputies, who assisted Jean-Baptiste Charcot in obtaining government support for his French Antarctic Expedition.
It was used for whaling between 1911 and 1931 and British military operations (Operation Tabarin) during World War II and then continued to operate as a British research station until 1962.
The requirements for working at Port Lockroy museum and souvenir shop/shop/post office—include being able to keep a positive attitude while living in a prefabricated corrugated steel Nissen hut in close proximity to three people and 1,500 smelly penguins for five months?
Having no running water and not being able to shower for up to a month?
Having to cook, carry out maintenance duties, count penguins and remain cheerful after long cold days and sometimes, very little sleep?
It interested, read the job advertisement and description below:
Port Lockroy Job Advert:
http://www.ukaht.org/downloads/pdfs/Port%20Lockroy%20Job%20Advert%20Nov2011.pdf
Port Lockroy Job Description:
http://www.ukaht.org/downloads/pdfs/PLjobdescription%20Nov2011.pdf
Port Lockroy Application Form:
http://www.ukaht.org/downloads/pldocs/PortLockroyApplicationForm.doc
Applications to sarah@ukaht.org by 30 March 2012 at noon.
By Nick Tozer – Buenos Aires