India confirms ban on cotton exports; China furious makes official complaint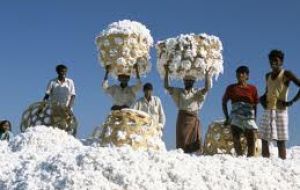 India will keep a controversial ban on its cotton exports for now after ministers failed to agree its fate at the weekend, even after top buyer China had criticised the move, which boosted global prices.
Indian exporters, who have some 2.5 million bales outstanding for overseas sales, are left with the limited consolation of shifting a maximum of 500,000 bales that have already been cleared by customs.
"The meeting was inconclusive. Further discussion is needed. The next meeting will be held as soon as possible," Kiran Dhingra, the top civil servant at the Textile Ministry, told reporters.
India, the world's second-biggest cotton producer, unexpectedly banned exports last Monday after a record 9.5 million bales had been shipped since October 1, saying it wanted to ensure adequate supplies for domestic textile mills. Traders said delaying the decision on the ban would unsettle global markets.
"It will lead to uncertainty, and we could see volatility in prices in the coming days," said Ghanshyam Ladha, a trader based in the western city of Jaipur.
China's cotton industry association also had said the ban was irresponsible and would disrupt the global market.
Farm Minister Sharad Pawar, a key ally for the ruling Congress party and an influential voice in previous export decisions, demanded the ban be lifted because it hurt cotton farmers, saying he had been kept in the dark about the move.
The Commerce Ministry earlier on Friday said it would allow cotton cleared by customs before March 4 to be exported, giving some relief to stretched traders, even though 2 million bales remain in limbo — registered for export but not shipped.
Government sources have said India may decide to allow limited exports of cotton above this to cover existing sales commitments and avoid defaults or costly foreign replacements.
Cotton ended 2011 as the worst-performing commodity of the year, falling 37% from 2010 after record prices had boosted output and decimated demand, while a shaky global economy scared off investors.
Globally, cotton production is expected to exceed consumption this year and again in 2012/13 despite low prices, according to the International Cotton Advisory Committee.
Morgan Stanley said that if the ban continued, it could have a negative impact on Indian domestic prices and planting prospects next year and the China Cotton Association announced it is lodging a complaint with India's Commerce Ministry and "hopes that the Indian government revokes the incorrect policy."