Malvinas means protecting the continent's natural resources, says Argentine leader
Friday, March 16th 2012 - 08:10 UTC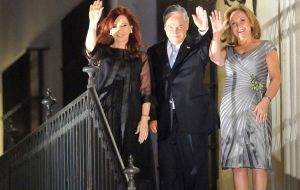 President Cristina Fernandez underlined the brotherhood between Argentina and Chile which she described as 'unalterable', particularly since both countries are now living under full democracies. She also thanked Chilean support for Argentine claim over the Malvinas and said that the sovereignty dispute has as a crucial element the need to protect the continent's natural resources.
"We're talking of defending our resources. When the big powers need resources, they go after them, not matter where. Malvinas must be seen as the defence of our fisheries, of our oil resources and of the environment" said the Argentine leader on a two day visit to neighbouring Chile where she arrived Thursday evening.
In the same way Malvinas has a crucial importance when the projection to Antarctica.
"Currently the world has 16 colonial enclaves of which ten belong to the UK. They are an anachronism and an affront to humanity", added the Argentine president, who underlined that "in democracy is when solutions are found for differences".
As to bilateral relations, the Argentine president said the "brotherhood of Argentina and Chile is unmoveable and unalterable" and remembered that the only moment when guns rumbled was not precisely when democracy prevailed in the two countries".
"Democracy even with different ideological tendencies, always helps to find solutions to our differences".
"Our joint destiny as countries is in the unity of Latin America", underlined Cristina Fernandez.
The president went on to say that the old boundaries marked by the phrase "Argentina in the Atlantic and Chile in the Pacific" has been replaced by decisions that help communications, interconnectivity which allow both nations access to international markets from the shores of both oceans.
"The Atlantic and the Pacific have become very important instruments for both countries".
Finally President Cristina Fernandez offered a toast to the shared challenges faced by both countries, "so as to better take advantage of global opportunities".
"This changing world demands we change, but in change we must never loose our course. And among the brotherly countries of South America we can never loose sight of unity and integration as two centuries ago (during the struggle for independence), that will make us freer, more independent and stronger", concluded Cristina Fernandez her speech at the gala dinner.
On Friday mid day the two presidents are scheduled to hold their first official meeting and in the afternoon will release a joint declaration.