US confirms 'neutral position' in Falklands' dispute; hopes for cooperation on practical issues
Saturday, March 17th 2012 - 06:10 UTC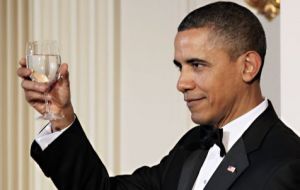 United States stated that it maintains its "neutral position" over the Falklands/Malvinas Islands dispute between Argentina and UKand hopes for an agreed solution, an official source of the US government assured after the three day visit of British Prime Minister David Cameron which included several meetings at the White House
"Our position remains neutral," an official who remained anonymous affirmed, as was advanced by Mercopress on Thursday.
Cameron was received by US President Barack Obama at the White House as part of his official visit to the country to debate over bilateral issues.
UK Prime Minister ended his trip with a visit to Ground Zero in New York, where he was asked about the Falklands/Malvinas situation and he answered that he had discussed this issue with Obama and that the president of the US had ratified the support of the "status quo" of the Islands.
The US government official reminded that "United States recognises the de facto administration of the UK in the Islands, but does not have a position over the sovereignty pretensions of both countries."
"The US government supports the cooperation of the UK and Argentina in practical issues and calls for a pacific resolution of this issue," he added.
A New York Times piece published Wednesday gave an idea of the situation when it reported that President Obama offered 'some comfort' to PM Cameron.
"The United States, he said, would stop prodding Britain and Argentina to talk to each other over the Falklands and stick to its historic position of neutrality".

Categories: Economy, Energy & Oil, Environment, Fisheries, Investments, Politics, Argentina, Falkland Islands, International, Latin America, Mercosur, United States.