YPF is an Argentine asset run by Spanish investors, De Vido tells Madrid
Saturday, March 17th 2012 - 07:21 UTC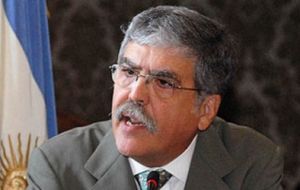 Argentine Planning Minister Julio de Vido lashed out at Spanish Industry Minister José Manuel Soria by saying that oil company YPF is an Argentine corporation run by Spanish investors and should not be considered an asset of the European country.
Previously, the Spanish official affirmed that the company's interests "were those of Repsol and Spain."
"It is a mistake to confuse Spain's interests as a country to the ones of the Repsol group, let alone YPF's resting only on the fact that Spaniards are the main share holders," said De Vido on Friday from Chile where he was of the visiting delegation of President Cristina Fernandez.
"We have to remember it is an Argentine company operating in our country," said De Vido in a statement to the press. "YPF can't completely dissociate itself from the nation's development," he stressed.
"In no way can the company's objectives be distracted from the interests of the Argentine state since its main assets are the oil deposits leased out by the provinces as concessions, and one of its principle objectives is to adequately supply, in its niche, the country with hydrocarbons fully exploited from those resources", added the Argentine minister.
De Vido admitted it is reasonable for YPF shareholders to try and maximize their benefits, but it must be in the framework of the full supply of hydrocarbons to the country and not at its expense, and since YPF is an Argentine company, as such, "it must work for its gas and oil production to accompany the growth of the country's economy".
In the last decade gas and oil production and reserves have dropped 40% and 36% respectively turning Argentina into a net importer of certain fuels, when not so long ago it was an exporter
"The worst violation of legal certainty is dishonouring concession contracts as Repsol-YPF has done in several occasions", said De Vido and explained that measures announced last Wednesday by two Argentine provinces are not 'isolated actions from two provinces but rather their reasoning are the result of a vision that is also shared by the national government, workers and gasoline stations".
Last Wednesday the provinces of Chubut and Santa Cruz took back from YPF five oil exploitation areas and on Thursday three other provinces, Mendoza, Neuquen and La Pampa announced they have demanded from YPF future production plans and why the unfulfilled provision. If by next week these provinces don't receive satisfactory explanations they will also proceed to eliminate the company's oil and gas concessions.