Unasur supports Argentine Malvinas and call on UK to resume negotiations
Sunday, March 18th 2012 - 19:48 UTC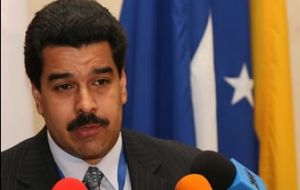 Foreign ministers from the Union of South American Nations (UNASUR) reaffirmed their support for Argentina over the Malvinas Islands sovereignty dispute at the annual meeting held in Asunción, Paraguay.
Closing with two final statements, one in particular over the sovereignty of the Malvinas islands, the bloc insisted the UK government renew negotiation talks with Argentina. The summit for foreign ministers was being held at the same time as the meeting for UNASUR economic ministers in Montevideo.
The ministers regretted the fact that the "de-colonialist mandate" put forward by the United Nations in successive resolutions since 1965 had still not been met and that "the British military still had control over the Islands"
In addition, the foreign ministers praised Argentina's "standing constructive attitude" to negotiate "a peaceful and definitive solution" to this "anachronistic and colonial situation taking place on American soil." Thus, a plea to the United Kingdom to "resume negotiations with the objective of putting an end to the dispute as soon as possible," was made over the South Atlantic islands.
The meeting also reiterated its request that UN Secretary General Ban Ki-moon "renew his efforts in abidance with the good offices mission that was entrusted to him by the assembly".
Venezuela's Foreign Minister Nicolas Maduro insisted that "de-colonization" in South America must be addressed with the strongest of efforts.
"There can not be a single colonial enclave in South America and the Malvinas cause is one of the fairest left in this XXI century. Decolonizing Malvinas in going to be a great achievement for the independence, peace and stability of our region", underlined Maduro.
The Union of South American Nations, created in 2008, is made up of 12 countries in the region, including Argentina, Bolivia, Brasil, Colombia, Chile, Guyana, Paraguay, Perú, Surinam, Venezuela, Ecuador and Uruguay. The foreign ministers of Ecuador and Uruguay, however, did not attend the summit in Asunción and were represented by other diplomats.
Uruguay's Foreign minister Luis Almagro remained in Montevideo because Uruguay is hosting the annual Inter American Development Bank annual assembly.

Categories: Energy & Oil, Environment, Fisheries, Investments, Politics, Argentina, Brazil, Latin America, Mercosur, Paraguay, Uruguay.