Maverick Norwegian yachtsman Jarle Andhoy is in trouble again.
Monday, March 19th 2012 - 11:18 UTC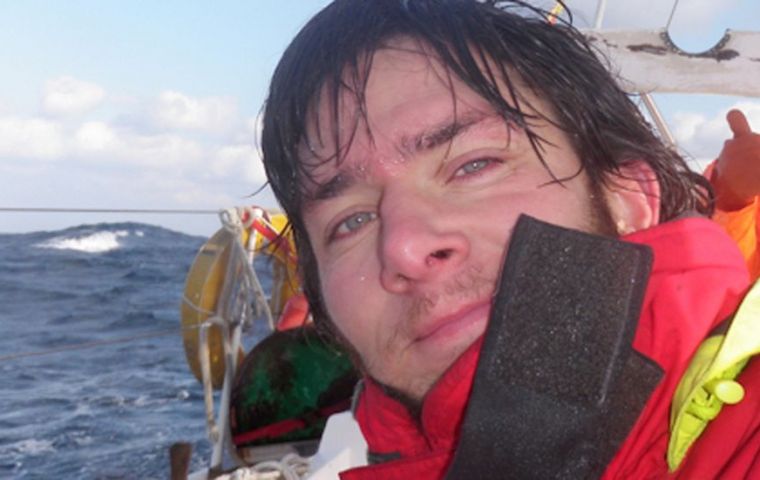 According to press reports from Norway and New Zealand over the weekend, the 54-foot yacht steel yacht Nilaya is reported to be sailing off Antarctica with a broken boom and is heading for an unspecified Argentine Antarctic base to carry out emergency repairs and to refuel.
From Oslo, Andhoy supporter Rune Olsgaard told the press that the Nilaya was struggling with bad weather and part of the rig on the boat had been damaged, but added, "I'm not worried, everything is fine on board," Olsgaard said.
"It's just a little later than planned. This is not anything dramatic, but something must be done before they take the voyage from Antarctica to South America."
Andhoy, age 34, calls himself the "Wild Viking" and is sailing with a crew of two, fellow Norwegian Samuel Massie, 19, and New Zealander Busby Noble, 53. It is not clear whether Noble went willingly with Nilaya as a stowaway, or just failed to get off the yacht when in left port quickly.
Earlier this year, Andhoy had reportedly been sailing the Nilaya, purchased in Auckland late last year, near where his previous yacht, Berserk, had disappeared in a storm with the loss of three men in February 2011.
After searching for several weeks and finding nothing, Andhoy had been reported to be sailing for South America.
The norwegian yachtsman - who is currently wanted by New Zealand authorities - indicated that he did not want to come back to New Zealand as he could face arrest for sailing to Antarctica without permits.
He is also reported to be sailing without an EPIRB (emergency position-indicating radio beacon). He said he would not carry an emergency locator beacon so that people would not take risks looking for him if he was in trouble.
It is unknown which of the thirteen Argentine Antarctic bases Andhoy was heading towards.
Last year, on a similar "expedition" to Antarctica, Andhoy's yacht Berserk sank with the loss of three crew members. Andhoy and a companion had left the yacht in an ill-planned attempt to reach the South Pole on quad bikes.
As he was travelling without the necessary permits or insurance, he was subsequently fined by the Norwegian Polar Institute 25,000 Norwegian kroner (US 4.300).
Andhoy is best known for his controversial voyages in Polar Regions - usually without permits, or insurance - which have run afoul of the authorities in Norway, Finland, Russia, New Zealand and Canada from where he was deported in 2007.
Nick Tozer - Buenos Aires