Falklands recovers community land 30 after the war, following mines' clearance
Tuesday, March 20th 2012 - 22:10 UTC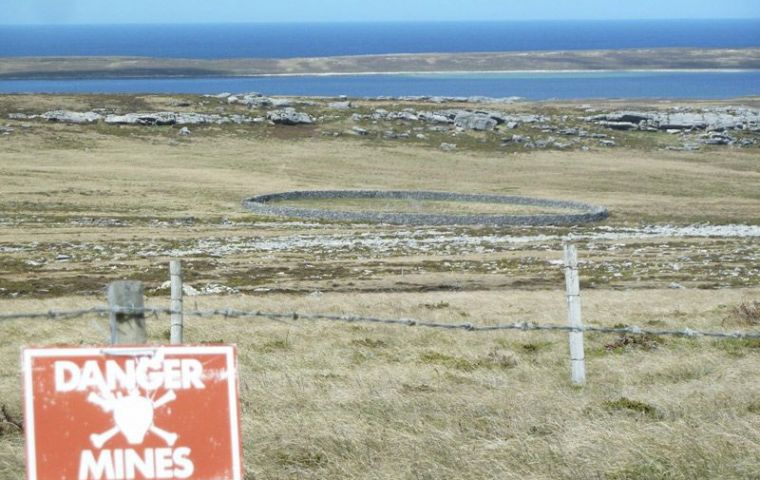 Thirty years after the end of the South Atlantic conflict, the people of the Falkland Islands will be recovering an iconic leisure ground which remained banned for three decades because of the mines planted by the retreating Argentine forces that invaded the Islands 2 April 1982.
The beautiful and historic stone corral to the south west of the capital Stanley will be the site of the land release ceremony on March 25 at 5pm followed by an open air 'bring your own' reception aimed at thanking the BACTEC team of mine clearance for the end of another successful project.
"It's very nice to have this land available to the community now. It's recreational land for people in Stanley and with an ever growing population we need that area", said Member of the Legislative Assembly, Sharon Halford.
"I'm really, really delighted because when the BACTEC team first started this season we only anticipated there's be only a reasonably small area cleared and they've done a phenomenal amount and we've got a lot, lot more than we ever hoped for in this hit".
MLA Halford then said "we encourage people to perhaps bring a plate of food and some drinks (include one for the BACTEC boys).
"There are two ways of getting there if people want to go. They can drive to the old pump station and then walk down, or drive by 4x4 from the area behind the high level water tanks and there will be someone to point the direction and white pickets to drive between."
Speeches will be made at the ceremony, including one by the Governor as the land clearance project is Foreign and Commonwealth Office funded. The folk group has been asked to go, "and sing a few songs", said MLA Halford, "and music teacher Shirley Adams-Leach has also been asked to bring some of her students to sing because we are now into the 30th anniversary of the Falklands War and it is also about looking to our youth and our future."
The whole event will take around one and a half hours and everyone is welcome to attend the celebration of the recovery of the historic stone corral.
MLA Halford explained, "Afterwards the area will not be immediately open to the public, as paperwork for the release still has to be finalised.
"We are having the ceremony on the 25th, however, because the BACTEC team is leaving the next day", said lawmaker Halford adding that the whole area will have to be looked at closely as access in some places is tight due to limited areas only being cleared.
MLA Halford noted it might not be possible to drive to certain areas for some time.
The BACTEC team including 18 Zimbabweans arrived on January first for this phase of the project of which fourteen of the group were involved in the original demining project in 2009/10, as well as five other team members.
Specialist mechanical equipment was used for the project, including an Armtrak-75 armoured remote control tractor fitted with a flail.(PN)