Next Mercosur summit in Mendoza, June 26/28; Brazil takes the relay
Wednesday, March 21st 2012 - 04:41 UTC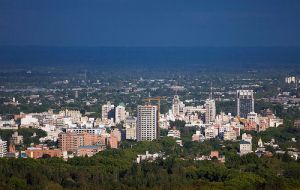 The next Mercosur presidential summit is scheduled to take place next 26/28 June in the city of Mendoza, when the rotating chair will be handed for the following six months to Brazil.
Mendoza government sources said it has not yet been decided whether the summit will take place in the provincial capital Mendoza or in some smaller town outside the main city of the province.
Mendoza is located over 1.000 kilometres North West of Buenos Aires and neighbouring with Chile is famous for the Andes cordillera and its thriving wine business and tourism.
During the main ceremony the Argentine president Cristina Fernandez will hand the rotating chair of Mercosur to her peer Brazil's Dilma Rousseff. All four leaders are expected to attend.
This will be the second time Mendoza hosts a Mercosur summit. The last was in 1991 when the ski resort of Las Leñas received the presidents of the trade block.