Canada in exploratory talks with Mercosur for a trade agreement
Friday, March 23rd 2012 - 02:18 UTC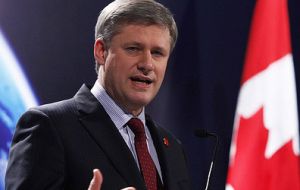 Canadian Minister of International Trade Ed Fast has concluded a two-day trade visit to Argentina, to promote the conclusion of exploratory talks towards a possible free trade agreement (FTA) with the Mercosur trade bloc.
During his visit to Buenos Aires, Fast met with Argentina's Minister of Foreign Affairs, Hector Timerman. He also met with political and business leaders to advocate more trade and job-creating partnerships between Canada and Mercosur member states.
Exploratory talks commenced in the third quarter of 2010, and the Canadian government said discussions to date have been productive. Two exploratory meetings have now taken place, with a third meeting expected to take place in Ottawa in May.
"My visit to Argentina was an opportunity to promote the mutual benefits of expanded trade and investment ties between us," said Fast. "Deepening and broadening Canada's economic relationship with high-growth markets like Mercosur is a key part of our pro-trade plan for jobs, economic growth and long-term prosperity."
"Canada-Mercosur exploratory trade talks are seeking to identify areas of mutual interest toward the potential negotiations of an agreement that would be mutually beneficial," he added.
The Canadian cabinet recently discussed a renewal of the foreign-policy directive and PM Stephen Harper is expected to discuss details of how Canada will re-engage with Latin America and the Caribbean during the Summit of the Americas in Cartagena, Colombia, April 14-15.
The previous Canadian Americas strategy, first signalled in 2007, had three pillars: security, prosperity and democratic governance. But the Foreign Affairs Department's own internal evaluation last year suggested the strategy was mostly talk and little action, citing a lack of resources and poor understanding of the policy.
In 2011, bilateral merchandise trade between Canada and Mercosur reached more than 9.7bn, a 213% increase over the last decade. Currently, companies listed on the Toronto Stock Exchange operate more than 200 mineral projects in Argentina.
At the end of 2010, the stock of Canadian direct investment in Argentina stood at 2.5bn, an increase of 25.8% compared with 2009. In 2011, bilateral trade between Canada and Argentina reached almost 2.9bn, up 55.2% from 2010.