Fitch lowers Repsol-YPF rating; growing intervention of Argentine government feared
Friday, March 23rd 2012 - 22:56 UTC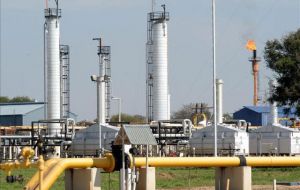 Fitch Ratings has lowered its long-term rating on Spanish oil company Repsol YPF SA by one notch to BBB after its Argentine unit said it would pay out its dividend in shares instead of cash. Last week Moody's adopted a similar decision. The company is currently in a dispute with the Argentine government.
In fiscal 2011, Fitch said the YPF SA cash dividend was worth around 600 million Euros to Repsol, which owns 57% of the Argentine company.
YPF dividend decision earlier this week came amid an intense push by Argentine President Cristina Kirchner and several provincial governors to force the company to use its cash to invest more in exploration and production.
As a result of YPF switching to a dividend paid in shares, Fitch said it would separate YPF from Repsol's consolidated cash flow statement and debt, adding back any dividend flow.
The change "has a negative impact on Repsol's business and financial profile," the agency said. For example, it boosts the share of Repsol's refining and retail operations as a percent of earnings before interest, taxes, depreciation and amortization, or Ebitda, to about 45%, from 30%, Fitch said.
While the downstream business is solid, it has a heavy concentration in the Iberian market, where the weak economy is pressuring the division.
Fitch also said Repsol's ratings could come under additional pressure if investor acceptance of its proposal to pay out its own dividend in shares "does not save at least 50% of its cash outflow to its shareholders" after the announced 10% increase in the dividend.
However, the ratings agency added that an increase of oil and gas production, which is expected in 2012 as output in Libya increases following the end of the civil war there and other output comes online in other parts of the world, could support a more positive view of the company's ratings.
Repsol shares recently traded down 1.9% at 19.2 Euros, valuing the company at 23.495 billion Euros.
A week ago Moody's had already lowered Repsol-YPF one notch together with several other oil companies operating in Argentina. They included the local affiliate of Pan American Energy, Petrobras Argentina and two companies belonging to the Argentine group Petersen which has a minority holding in YPF. Moody's argued the unpredictable situation created by the Argentine government advance on the industry.
Moody's said that the Argentine government has previously intervened in the gas and oil sectors and recently has adopted several actions that have shown both an increase of its participation in the industry but also a high level of unpredictability.
"Factors restricting the rating of YPF can be found in its concentration in Argentina, its high risk of convertibility and of transfer of foreign currency". Moody's said YPF rating remains under review given the growing risk of a greater intervention of the Argentine government.