Argentina is facing serious trade problems and Brazil "must help in a mature way"
Saturday, March 24th 2012 - 02:52 UTC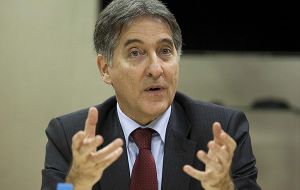 Argentina is having serious trade problems and Brazil "in a mature way" must try and help solve them said a top official from President Dilma Rousseff administration, who anticipated he would be travelling to Buenos Aires in coming weeks.
"It seems Argentina is having serious problems and we must in a mature way, try to help solve them", said Fernando Pimentel, Brazilian minister of Development, Industry and Foreign Trade.
"We have received many complaints from Brazilian businesspeople" admitted Pimentel in reference to the system implemented by Argentina since February which demands imports' sworn statements, forcing companies to anticipate their overseas purchases which can then be approved or disapproved under the new rules.
Pimentel said this has created "an additional difficulty" for trade and will be discussed by an official Brazilian business delegation which will travel to Buenos Aires in coming weeks.
According to the Brazilian Confederation of Industries, CNI, exports to Argentina have dropped 22% in the first two months of 2012, but Argentine Economy minister Hernan Lorenzino said that this is not supported by figures.
"What stats show is that according to the latest official figures, Brazil during January bought 24.8% less from Argentina and we imported from Brazil an extra 10% compared to a year ago", said Lorenzino
Pimentel insisted that in spite of very specific problems trade relations between Brazil and Argentina are "very good" and given the huge and intense volume of bilateral trade "it is normal that problems surface".
The other big industrial lobby, the Sao Paulo State Federation of Industries, FIESP, said that a delegation with their president Paulo Skaf would be travelling to Buenos Aires to discuss with Argentine government officials and different industrial chambers.
"We are most concerned with the situation and we will continue to negotiate until we find a solution which is good for both sides", said Skaf. "Argentina is a neighbouring country and an important trade partner".